Easy Sugar-Free Keto Pumpkin Cheesecake Recipe
Posted On November 7, 2020
Easy and sugar-free is the best kind of dessert in my world. My kids absolutely love this easy sugar-free pumpkin cheesecake recipe as much as I do all year around thanks to canned organic pumpkin puree. Every bite is as good as the last. Adding sugar-free cool whip to this low-carb recipe is a definite must for me!
Jump to Recipe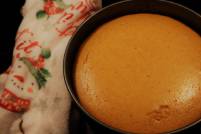 WHAT I LOVE ABOUT THIS KETO/LOW-CARB PUMPKIN CHEESECAKE RECIPE
This easy keto sugar-free pumpkin cheesecake recipe is done in under an hour, meets the health marks, and gives me the warm feeling I love about comfort food. Added bonus, it's vegetarian friendly and great for the holiday dinner spread!
It tastes great.
Easy no-bake keto crust!
Ingredients are inexpensive and easy to find.
Sugar-free and low carb dessert, a comfort food win!
Kids approved!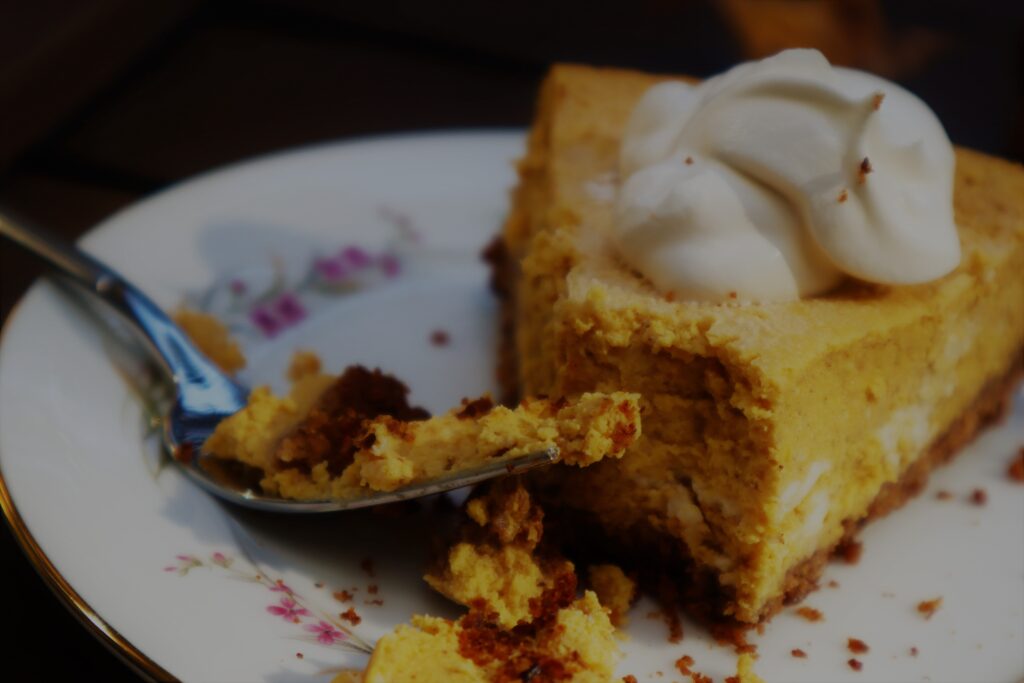 HOW TO MAKE THIS SUGAR-FREE PUMPKIN CHEESECAKE RECIPE PERFECT EVERY TIME:
Save time a purchase pre-made crusts. I am allergic to almonds, so it's hard to find low carb pie crust recipe options. I also like a change from coconut flour too. This store bought pecan crust is such a time saver and so easy to find. I add it directly to the pie crust, or other times crumble it and spread across the bottom of an instapot springform pan when I want my cheesecake to have more height.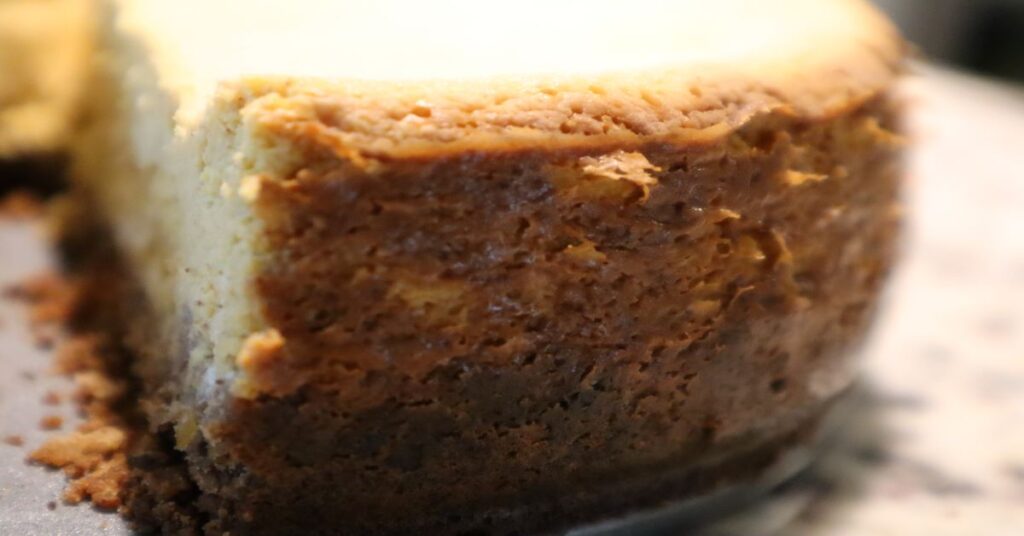 I got this easy beautiful keto crust on the sugar-free pumpkin cheesecake from the recommended ready made pecan crust! All I did was crumble it and place an even layer on the bottom of the springform pan before baking.
Let the cream cheese and eggs room sit out for about an hour to room temperature.
Use erythritol as the sugar substitute for the best flavor.
Don't forget the sugar-free cool whip!
FREQUENTLY ASKED QUESTIONS
What makes this easy recipe keto/low-carb?
In addition to the pecan crust, pumpkin is a naturally low carb vegetable so a great choice for any time of year and a great choice for keto and low carb desserts.
I love using pumpkins in vegetarian recipes because it's a great low carb winter squash. This recipe in particular gives me comfort food all the way without the guilt.
My cheesecake cracked?
Remember that even if your cheesecake cracks, it will still taste great. The main tips to prevent a cheesecake from cracking are:
Don't overbeat your eggs or cream cheese mixture. Too many air bubbles will encourage cracks.
Spray your pan well to prevent the sides from sticking and causing the cracks when the pan cools.
Don't overbake it.
Don't open the oven during the middle of it cooking. Even temperatures are ideal. Also try placing your cheesecake in a water bath when baking.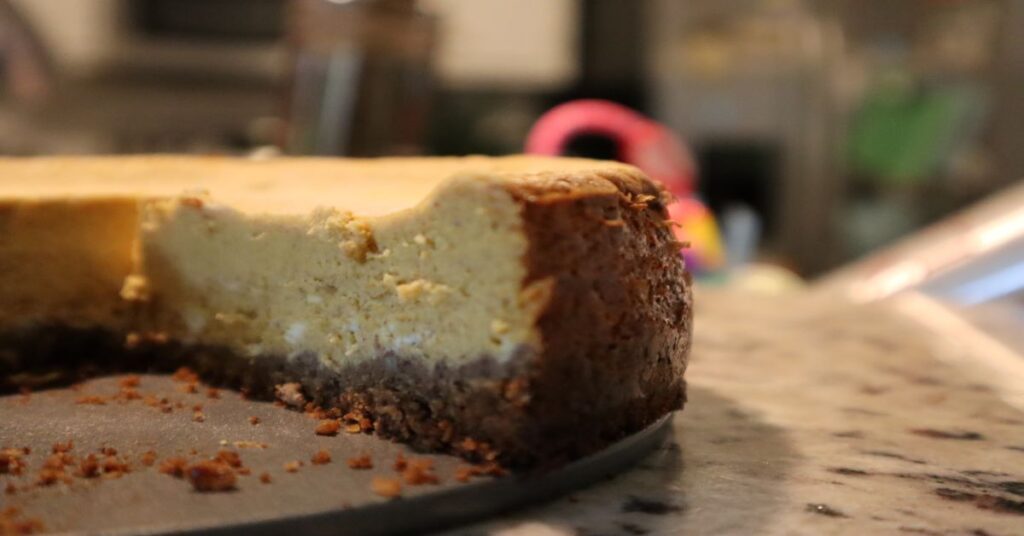 Easy Sugar-free Keto Pumpkin Cheesecake Recipe
This keto sugar-free pumpkin cheesecake recipe is done in under an hour, meets the health marks, and gives me the warm feeling I love about comfort food.
18.7g carbs, 10.1g fat, 4.1g protein
*nutritional value provided with 1tbsp. sugar-free cool whip per slice
Equipment
instapot springform pan

hand mixer, stand mixer, or whisk

large mxing bowl

large pan to put springform pan in while baking (optional)
Ingredients
16

ounces

softened cream cheese

¾

cup

erythritol

1

cup

organic pumpkin puree (canned or fresh)

2

medium

eggs (room temperature)

1

teaspoon

pumpkin spice

1

teaspoon

vanilla extract

½

teaspoon

ground cinnamon

1/4

teaspoon

ground ginger

1

Diamond ready-made pecan crust

cooking spray or butter to grease pan

1

tablespoon

Sugar-free cool whip (per slice)
Instructions
Soften cream cheese by leaving it on counter or an hour or microwave for 30 seconds

Add 16 ounces of softened cream cheese, pumpkin spice, vanilla extract, cinnamon, and ginger to mixing bowl. Whisk, hand mix, or using stand mix beat together. Do not over beat.

Add eggs and whisk gently until smooth. Avoid over mixing, but get rid of all the lumps.

Using cooking spray or butter, liberally grease the springform pan.

Crumble the pecan crust and smooth out along the bottom of the springform pan.

Pour cheesecake mixture over the pecan crust.

Once oven is pre-heated, place the springform pan into a larger pan and pour water to cover the bottom of the larger pan.

Bake 40-50 minutes. Recommend check on it at 40 minutes to avoid over baking.

Let it cool completely on counter for a minimum 2 hours before refrigerating.

Refrigerate 4hours – overnight to set cheesecake before serving.

*Spread the entire cheesecake with sugar-free cool whip after cooling on counter during the setting phase for an additional layer or add a dollop of it per slice before serving.
GOT QUESTIONS? I'm happy to help. Leave a comment and add some stars to let me know if you enjoyed this easy low-carb dessert recipe. Let me know how you re-created it too. Also, please share it on social media. Tag #thenaturalfoodie. Thanks! -Salei
Please follow and like us: