Trinidad Curry Pumpkin Recipe (Vegan!)
Posted On October 15, 2020
This authentic vegan Trinidad curry pumpkin recipe is full of Caribbean flavors and is the perfect low-carb friendly crowd pleaser for your Thanksgiving and Christmas holiday menu. The fresh pumpkin marries with onion, garlic, and bold Indian madras curry powder full of turmeric, cumin, fenugreek, and chilies. The simple secret ingredient, sugar, balances the boldness of the spices. Even those who second guess curry recipes love this curry pumpkin dish.
Jump to Recipe
I never seem to offer enough of this authentic Trinidad curry pumpkin recipe when I make it. Mouth watering and usually difficult for others to replicate, so I've given every pointer to make sure you make it perfect the first time. It is a low carb friendly recipe, and a great first choice for a curry recipe. If you consider yourself an international food wizard and don't know how to make a delicious curry pumpkin, this recipe is what you need. It is an absolutely delicious marriage of sweet and savory. It goes great with my Indian style fresh green bean recipe, both delicious vegan recipes. Try this killer combo to confirm that only delicious foods are made in your kitchen!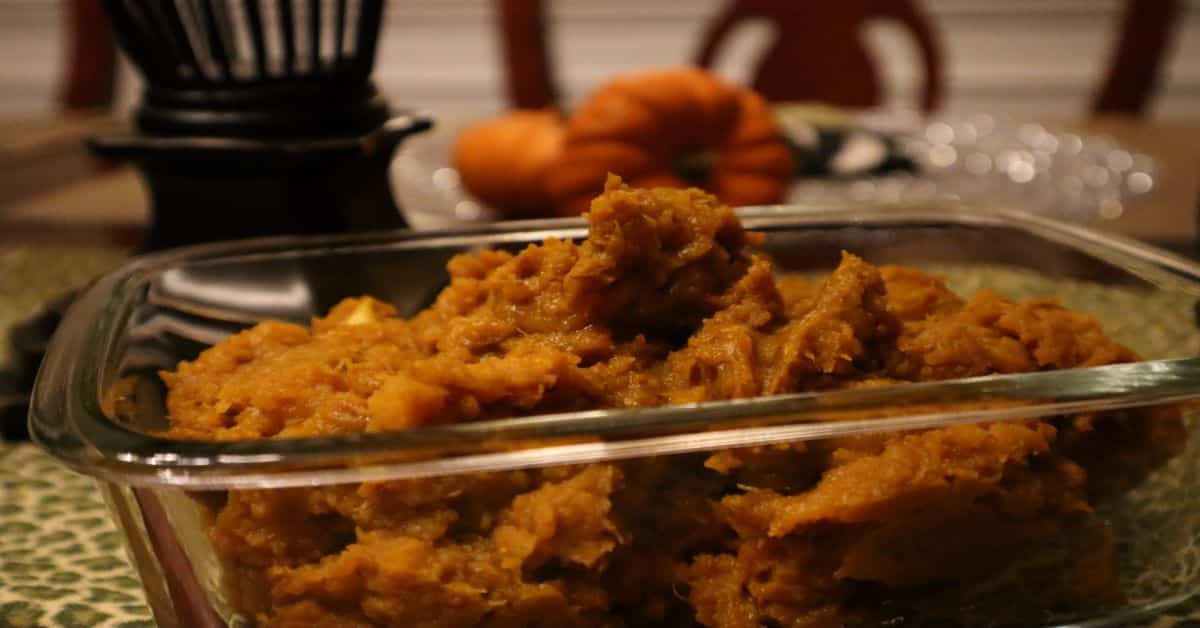 If you're searching for a pumpkin recipe for the holiday season or want a great vegan showstopper recipe, this curry pumpkin recipe is for you.
What I Love About This Curry Pumpkin Recipe
This curry pumpkin is a vegan and low carb recipe so just about any lifestyle can enjoy it.
Doesn't need much attention while on the stove so you can prepare other parts of your meal while it is cooking.
Amazing flavor
Crowd pleaser recipe
Easy, inexpensive ingredients
Kid approved!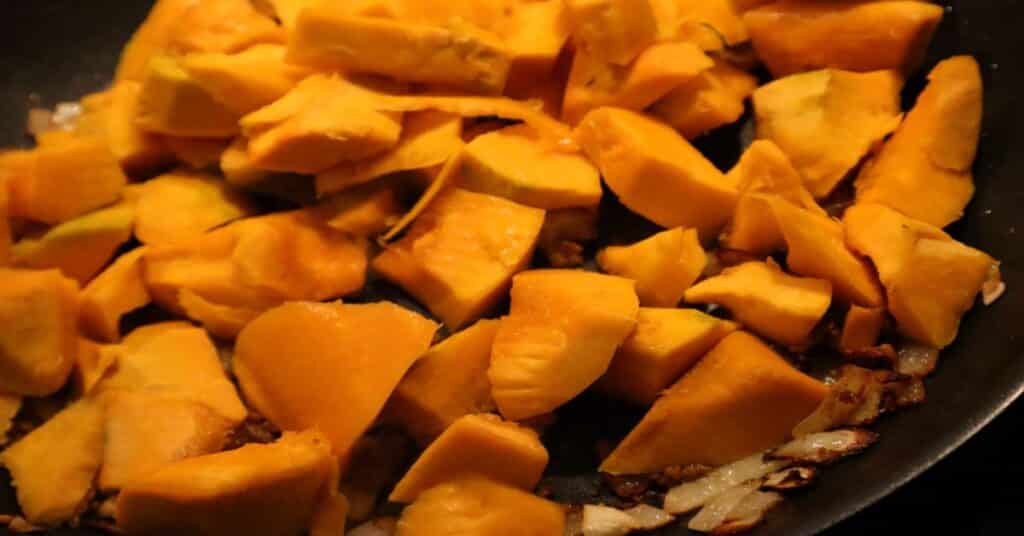 How To Make Curry Pumpkin Perfect Every Time
Timing is key. This is a slow cook. Depending on how low I have the heat, I let this slow cook for 45 minutes to 90 minutes.
Watch your water. The pumpkin will make its own water. If you want to speed the process along, add water two tablespoon at a time every 5 minutes. Turn your heat level up slightly also. Keep the lid on the pan. Throughout the entire process, at most I may add 1/2 cup of water.
Use a non-stick pans. Any sauté pan will work. I find non-stick easier all around, especially for clean up and ensuring moisture is introduced best.
Is This Curry Pumpkin Recipe Too Spicy For Children?
Not mine! My kids love this recipe, especially because it's a sweet and savory flavor and isn't spicy. Ironically, the youngest likes more spice than her sister and their dad, but this recipe is great because it has the great Indian/Caribbean flavors and isn't spicy at all. Before the recipe card I include how to transition this recipe into a homemade baby food recipe.
Curry Pumpkin Notes + FAQS
Preparing The Pumpkin
The real work is in cutting the pumpkin. For this reason, on meal preparation days I get a knife and a vegetable peeler. I freeze two cups per bag.
In season pro-tip. Get mini pumpkins. They are easier to cut. You can use a vegetable peeler and then cut into small pieces and scoop out the seeds from there.
Out of season pro-tip. Use any winter squash. Harris Teeter tends to carry East Coast diced butternut squash ready made all year. Your local international grocery store or supermercado latino will have calabaza, your winter squash, all year. I've added the links here for stores in my area and ready made products.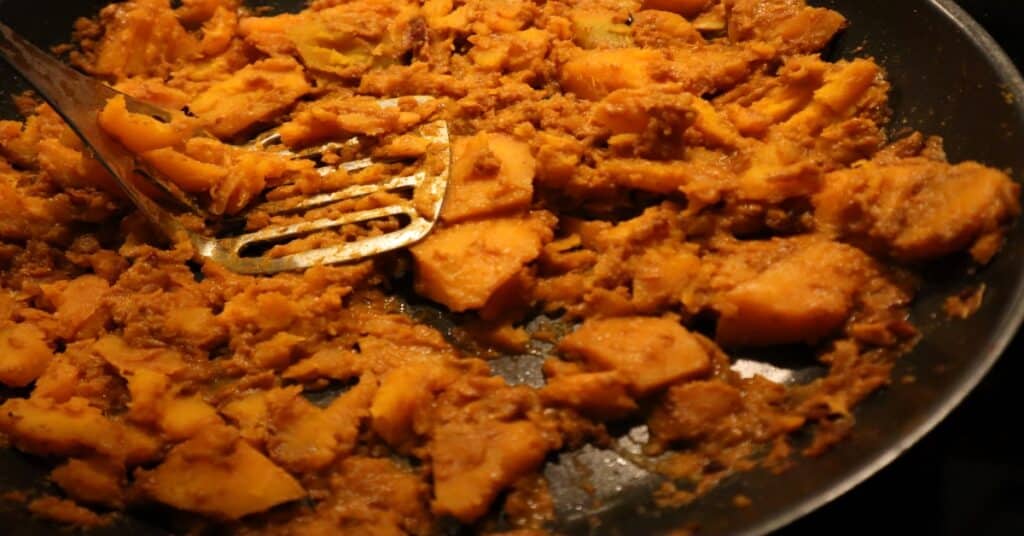 Are pumpkins low carb?
Although this recipe can be made with other winter squash, using pumpkins, not higher carb winter squash, makes it a low carb recipe. One cup of cooked pumpkin is only 12g of carb.
For low-sugar meal plans or diabetics, I make this curry pumpkin dish using erythritol instead of sugar. I chose erythritol for the sugar substitute because it doesn't change the taste of my curry pumpkin recipe. The measurements are equal parts also so it's easy to stick to your low carb or keto lifestyle.
What is curry powder?
Curry powder is a blend of Indian herbs and spices. There is no one curry powder. Every blend available is a combination of herbs and spices such as turmeric, cumin, cayenne powder, chili pepper flakes, coriander, allspice, fenugreek seeds, black pepper, ginger, and the list goes on! And if your wondering, no, garam masala is not curry powder, but it is delicious.
What is a Caribbean Curry powder?
In the Caribbean, the yellow curry powders are most commonly used in curry recipes. These are also known Madras curry powder. I regularly use Chief's brand curry powder when I don't make my own curry powder seasoning.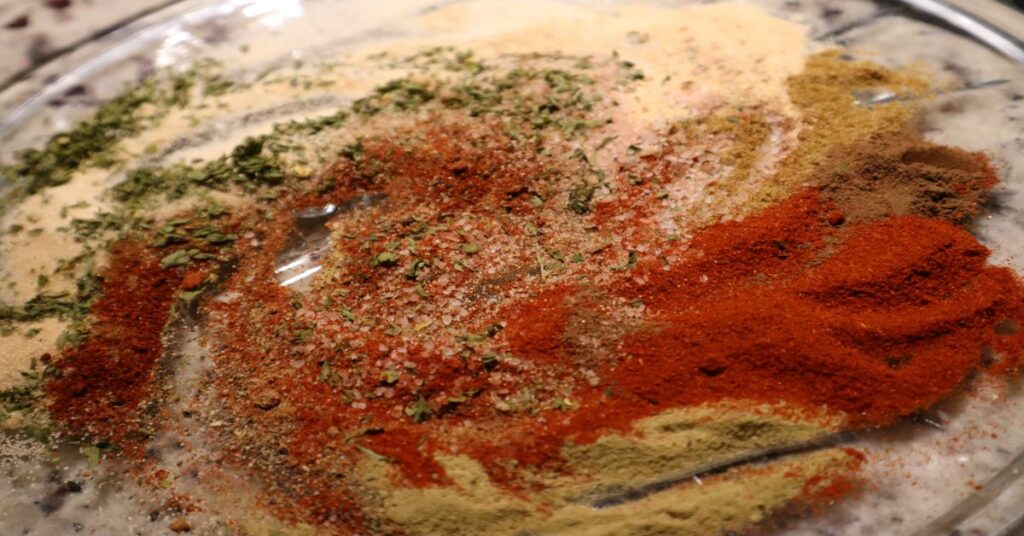 Is Curry Healthy For You?
The way I prepare curry, it is healthy to eat every day. Most of my curry recipes call for my green seasoning recipe which is an all-purpose low carb easy to prepare fresh herb seasoning mixture and dried herbs. I don't use a lot of salt either. Check out this list of health benefits of curry powder.
Recipe variations for making this curry pumpkin recipe into homemade baby food
As a stage 1 homemade baby food recipe, I do make modifications however. It's a great time saver because I am already preparing fresh pumpkin. As a stage 1 food, I simply boil the pumpkin for 20 minutes and puree in a blender or food processor. This freezes really well.
As a Stage 2 homemade baby food recipe, I boil some garlic cloves with the pumpkin for the same time and add ginger and cinnamon instead of curries and other sweeteners before pureeing when I want to use pumpkin and my infant children were in the beginning stages of learning to eat food. At around 8month-9 months, my girls as infants loved this recipe as is, but I usually left out the sweetener until after age one.
Ready to cook this showstopper recipe!
Trinidad Curry Pumpkin Recipe
This authentic Trinidad curry pumpkin is full of Caribbean flavors and is the perfect low-carb friendly showstopper recipe. Sweet and savory perfectly married. Fresh pumpkin with onion, garlic, and bold Madras curry powder full of turmeric, cumin, fenugreek, and chilies. The simple secret ingredient, sugar, balances the boldness of the spices. Even those who second guess curry recipes love this curry pumpkin dish.
25.6g carbs, 3.6 g fat, 1.8 g protein
*nutritional content based on ¼cup of erythritol instead of sugar
Equipment
sautee pan or wok (with lid)

measuring cup

cutting board

vegetable peeler

large knife
Ingredients
1

tbsp

olive oil

extra virgin if available

1

tbsp

curry powder

Chief Curry Powder

3

cups

chopped pumpkin squash

can substitute most winter quash

1/4

cup

large yellow onion

2

cloves

garlic

1

tsp

turmeric

1

tsp

cumin

1

tsp

garlic salt

1/4

tsp

ground cayenne pepper

or less

½

tsp

salt (optional)

¼-½

cup

sugar or erythritol (to taste)
Instructions
For Preparing the pumpkin
Cut the pumpkin into small cubes or grab your ready prepared bag from the freezer or other pre-cut winter squash. You also need your ¼ cup large yellow onion diced, two cloves of garlic minced, and one tablespoon of olive oil ready to go.
For The Sauté Phase
Set your stovetop on medium heat, and add one tablespoon of olive oil to your sauté pan or wok.

After the oil heats, add the onion and garlic mixture. About 5 minutes later the onions and garlic will turn to a golden brown. If your stove is really hot when you introduce the ingredients, it will take less time. If your stove isn't hot, it could take up to 7 minutes to achieve the right color.

While your onion and garlic are browning, make your curry paste by adding one tablespoon of Chief's curry powder to a small measuring cup with one tablespoon of water.

Pour your curry paste over your sautéed onions and garlic and mix well.

Immediately add your pumpkin. Mix it gently in, lower your stovetop to around 3, so well below medium, and cover with a lid immediately. Stir occasionally for the next 45 minutes.

*DO NOT ADD WATER*
For The Simmer Phase
At the start of the next 45 minutes, set your timer for 30 minutes to check on the pumpkin.

Your pumpkin and sautéed vegetables will marry with the curry pumpkin on low heat (around halfway between low and medium) with the lid on. Notice how I've not added any liquid. The pumpkin makes it's own water. I don't add water until near the end.

At the 30 minute mark, add seasonings. With the same mixing cup used to make the curry paste, mix together one teaspoon of turmeric, one teaspoon of cumin, one teaspoon of garlic salt, and a pinch of crushed or ground red pepper.

Pour this dry spice mixture into your pan and mix gently. Put the lid back and leave alone for another 15 minutes.

Once the pumpkin has been on a low level of about level 3 for 45 minutes it should be soft enough to mash. If 45 minutes have passed and the pumpkin is not soft enough to smash like mashed potatoes, add a little water and turn the stove up to medium. When I add water, I add it in two tablespoon increments about 5 minutes apart. You don't want to add too much water at one time. If you are getting impatient, then don't add more than ¼ cup of water at any one time.

Salt to taste. I use 1/2 teaspoon. (optional)

Highly recommended is adding the secret ingredient! Sugar. If you prefer a sugar substitute, add erythritol. I start with ¼ cup of either sugar or erythritol, mix and taste, and then if necessary add up to ¼ cup more one tablespoon at a time. Note that ¼cup is 4 tablespoons.

I usually only use ¼ cup in mine, but when I want it sweeter, I will add up to ¼ cup more in small increments.
GOT QUESTIONS? I'm happy to help. Leave a comment and add some stars to let me know if you enjoyed this recipe. Let me know how you re-created it too. Also, please share it on social media. Tag #thenaturalfoodie. Thanks! -Salei
Please follow and like us: