Easy Vegan Indian Style Fresh Green Bean Recipe
Posted On October 15, 2020
This easy vegan Indian style fresh green bean recipe gives you mouth-watering, smoky flavors from only tomatoes! Even better, there are only 7 ingredients in the entire dish.
Jump to Recipe
No one ever believes this is a vegan dish, but all the smoky flavors comes from cooking down the tomatoes using the technique described here. It's a great way to deliver all the flavor of meat infusion to a side dish in a healthy way.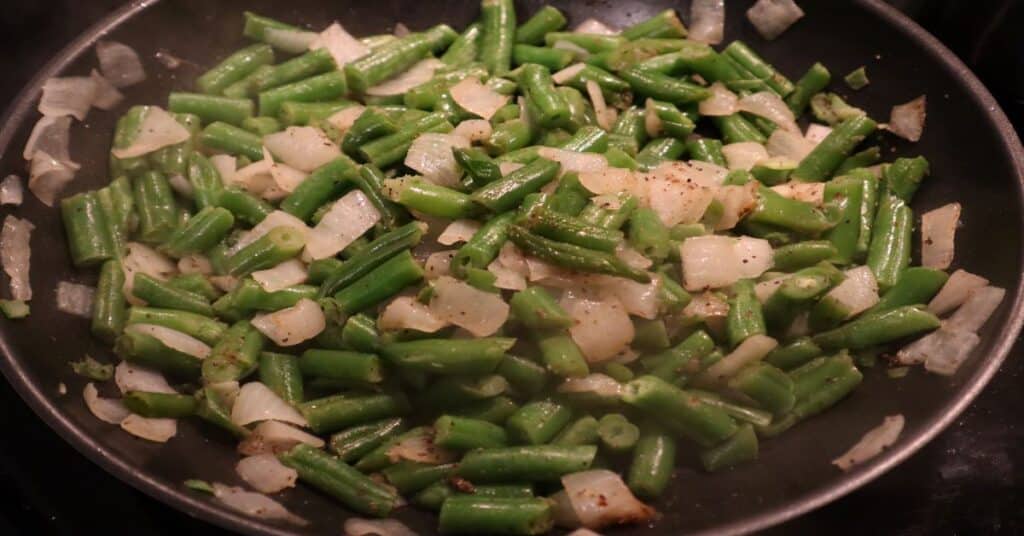 What I Love About This Fresh Green Bean Recipe
Anyone who thinks meat is necessary to flavor vegetables will back down after trying this easy, healthy, low carb, vegan recipe. Pair it with my authentic Trinidad curry pumpkin recipe and meat lovers will understand how people are vegan.
Fresh or frozen green beans worth interchangeably without effecting the texture of the final product.
The ridiculously delicious taste will have you believe this health recipe is a cheat meal.
Ready in 30 minutes.
Easy, inexpensive ingredients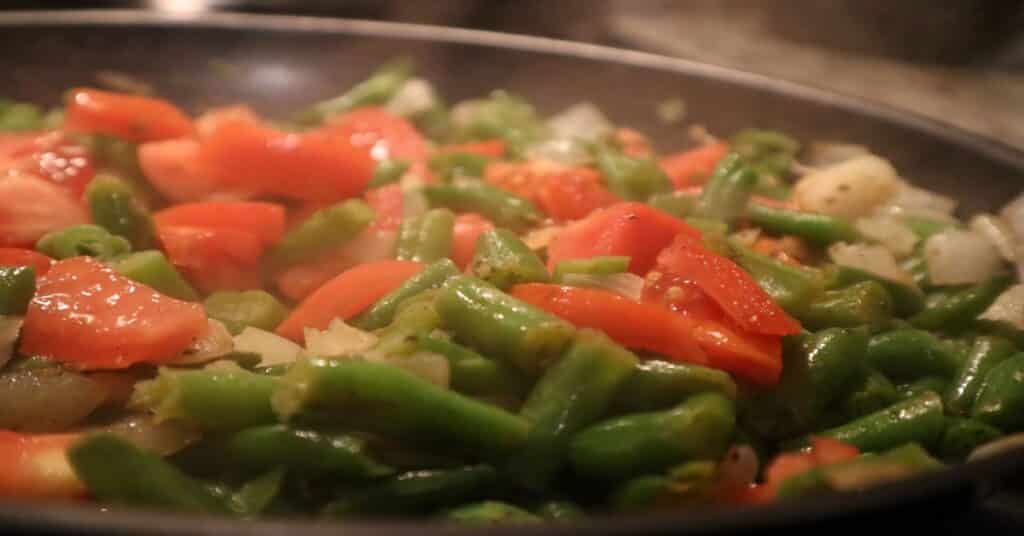 How To Make This Indian Style Fresh Green Bean Recipe Perfect Every Time
Follow My Instructions Exactly
Do not cover the green beans during the cooking process
Do not introduce tomatoes before the recommended time.
The tomatoes will cook down to almost a paste like texture so to avoid burning, I introduce them at a very specific time in the cooking process. I also don't want you to be tempted to cover your pan or introduce water so add where the instructions provide. These steps are critical to get the smoky flavor that elevates this dish to showstopper level.
Useful Recipe Tips + Notes To Make This Recipe Even Easier
The green beans. A huge time saver is purchasing fresh frozen green beans or the bag of ready-to-cook green beans. There is no need to cut the ends. I've included links to what I normally purchase.
Stay away from canned substitutes. Canned green beans will not give you the same flavor profile or texture.
It's so much easier to use a non-stick pan. Makes clean up easier and allows you to use less oil for a healthier cooking.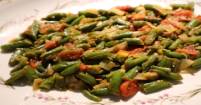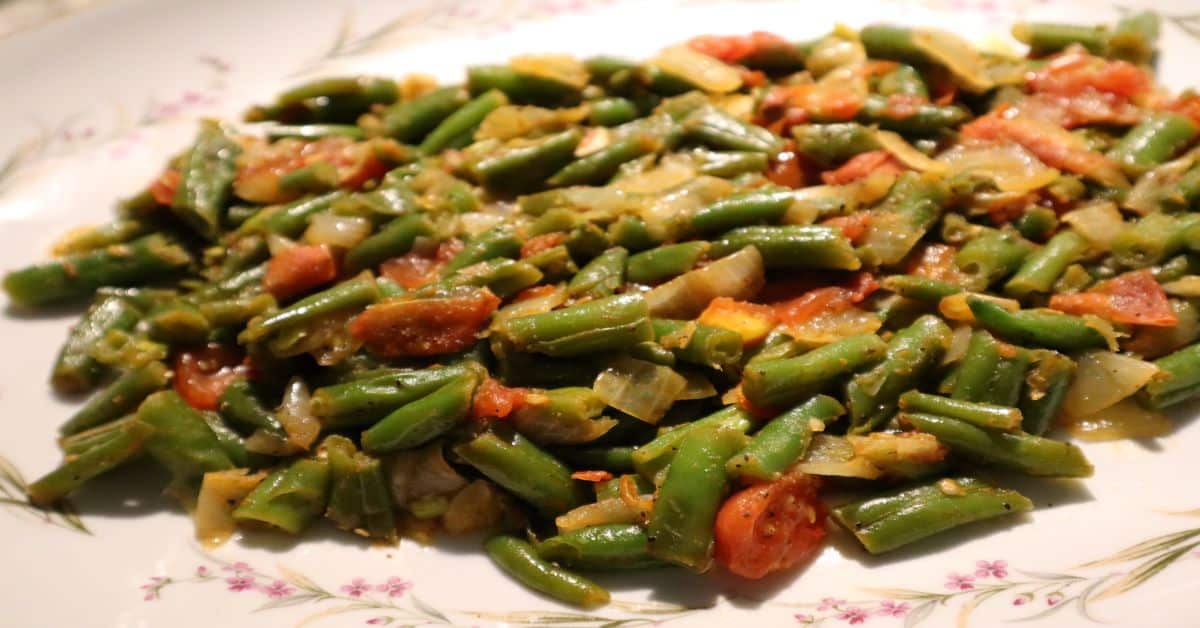 Your welcome. It's that good.
Easy Vegan Indian Style Green Beans Recipe
This easy vegan Indian style green beans recipe is delicious. The perfect side dish with smoky flavors from tomatoes. Only 7 ingredients in the entire dish.
9g carbs, 2g protein, 2g fat
Equipment
sautee pan

measuring cup

cutting board

knife
Ingredients
1

teaspoon

olive oil

½

large

yellow onion

1

clove

garlic

12

ounces

green beans

1

teaspoon

ground black pepper

1

teaspoon

garlic salt

1

medium

tomato
Instructions
Heat your sauté pan on 7 heat (halfway between high and medium). Add one teaspoon of olive oil.

Once the oil has heated, add ½ of a large yellow onion roughly chopped, and one clove of minced garlic. Sauté for five minutes.

After five minutes has passed, add 12 ounces of fresh or fresh frozen green beans. (1 frozen bag or 1 ready made bag). No pre-thawing necessary for frozen. Let this simmer for 15 minutes. Stir occasionally.

*DO NOT COVER YOUR PAN WITH A LID*

After 15minutes has passed, add one teaspoon of ground black pepper and gently stir. Make a hole in the middle of the green beans and add one more teaspoon of olive oil to the center of the pan.

Mix the olive oil into the green beans and add one medium tomato roughly chopped to your pan.  

Add one teaspoon of garlic salt. Let the mixture of green beans with the onions, garlic, and tomatoes sauté for up to 10 minutes.

Remember not to cover your pan/pot with a lid.

The tomatoes will cook down to almost a paste like texture. This is critical for the smoky flavor. Once your tomatoes transition to the paste like texture, give it one last stir and remove from heat.
GOT QUESTIONS? I'm happy to help. Leave a comment and add some stars to let me know if you enjoyed this recipe. Let me know how you re-created it too. Also, please share it on social media. Tag #thenaturalfoodie. Thanks! -Salei
Please follow and like us: