Green Bean, Sweet Potato & Pumpkin Baby Food
Posted On November 3, 2020
If you can make a delicious creamy soup or a crazy amazing smoothie, you already know how to make baby food. This homemade green bean, sweet potato, and pumpkin baby food recipe is incredibly tasty, easy to prepare and store, and so nutritious for your baby.
Jump to Recipe
Parents know healthy, quick, and easy options to feed our babies are in high demand. Use my meal preparation tips for maximum easy. It will save you a lot of time you will be grateful to have back.
DOES THIS RECIPE REALLY JUST HAVE GREEN BEANS, SWEET POTATO, AND PUMPKIN?
Yes, if that's what you prefer. I also add garlic to it for the flavor. I add a little water, or when my children was first entering the sitter stage (6-8 months), I used breastmilk (or formula) instead of water for the liquid.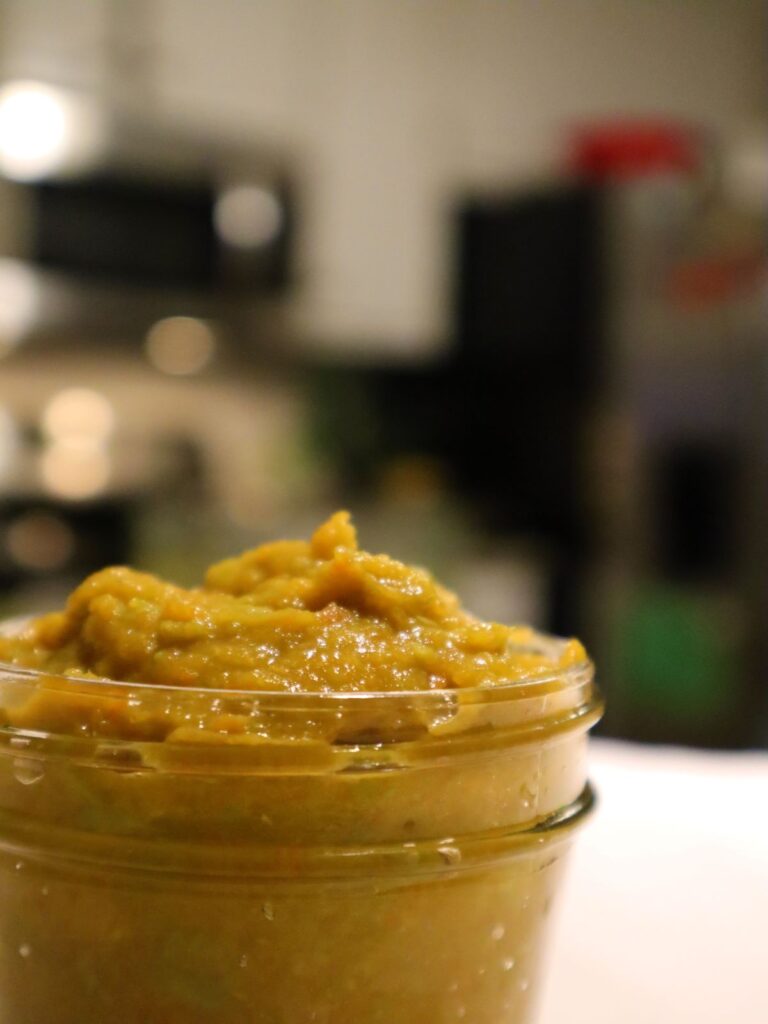 Disclosure: This post contains Amway affiliate links which means, if you make a purchase, I'll receive a very small commission which helps with blogging expenses. Every recipe is FREE to you, and the price you pay is the same for linked products.
WHY MAKE YOUR OWN BABY FOOD?
Whole foods are key for nutritious eating, and a great choice to feeding babies. I love making baby food. It's just as easy as making a soup or smoothie.
It's EASY!!!!
Inexpensive and easy to find ingredients.
You know exactly what ingredients are going into your baby.
The Basics of Feeding An Infant
Before we start making recipes for baby, let's go over the basics of feeding our babies. According to the American Academy of Pediatrics, babies can start eating solid foods at 6 months. Your doctor may allow as early as 4 months old, so make sure to ask your pediatrician.
How much do babies eat?
Babies normally only eat a teaspoon or two at first if any at all. Other times they only chew at first. It is wise to prepare and store in ice cube size portions to avoid waste.
Sitting unassisted is usually a good indication they are ready to eat a little larger portion, usually increasing from 1-2 bites to 2 ounces, and mixing foods.
At at around 10 months old, they are eating 3-4 ounces per sitting and eating more finger foods.
When your baby turns 1 they will get a majority of their nutrients from table food.
Organic vs. Non-organic produce
Please refer to the EWG "dirty dozen" and "clean 15" to see if organic is best.
RECIPE NOTES + TIPS TO MAKE THIS EVEN EASIER
TOOLS YOU NEED TO PREPARE BABY FOOD
Something to cook the food in. A pot or crockpot are my preference. I've linked the pots I use.
Pureeing tools. Immersion blender, blender, or food processor.
Storage containers (fridge and freezer storage). I choose reusable ziplocked bags and ice trays.
Having a really good knife set is really helpful. Be careful because they will be sharp! I've linked the knives I use.
Check out other homemade baby food recipes
STORAGE RECOMMENDATIONS FOR BABY FOOD
Store in 1 ounce portions and increase as baby gets older.
Reusable pouches are environmentally friendly and still less expensive that buying baby food.
If freezing, store and use over 1-2 months.
If storing in fridge, it lasts two days. Three days max.
Other helpful notes + tips for making this baby food recipe
How to thaw frozen baby food? Thaw an individual portion it in the microwave on defrost or place an individual portion in the fridge and let it unthaw overnight or in a cup of water.
Frozen green beans work just as well as fresh.
Sweet potatoes and pumpkin puree really easily and are great stage 1 foods to introduce to babies between ages 4-6 months.
RECIPE VARIATIONS
Green beans are full of vitamin A, C, folate, potassium, iron, and calcium. I do not use green beans as a stage 1 option to introduce between age 4-6 months because it can be grainy on its own. It is great for recipes such as this green bean, sweet potato, pumpkin baby food recipe.
Try pureed green beans with carrots, lentils, potato, squash or zucchini, brown rice, chicken, basil, or tofu.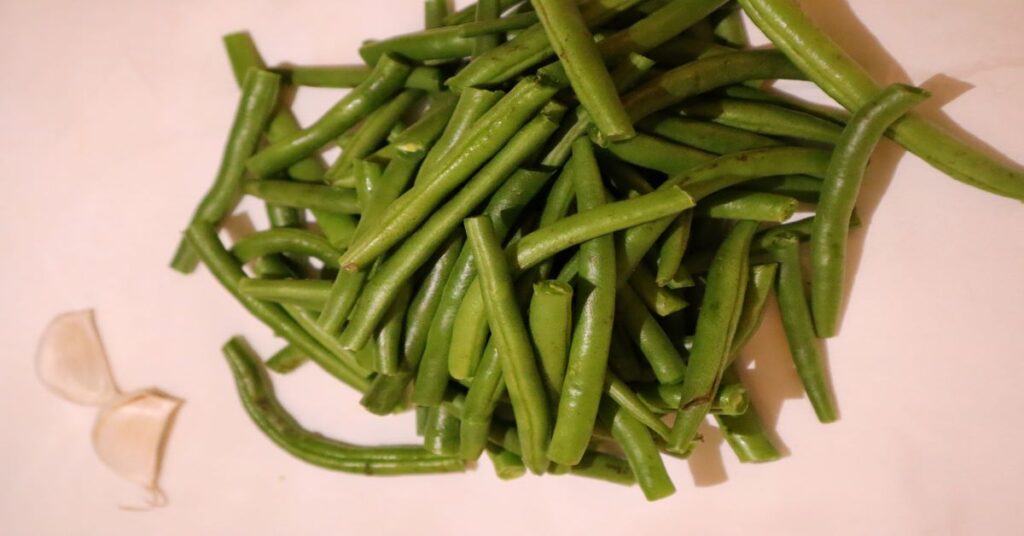 COOKING VARIATIONS
Roast your sweet potatoes and pumpkin and peel after roasting if you are afraid to peel them yourself when raw, and puree instead of boiling.
Throw everything in a crockpot on low overnight, allow to cool, and puree the next day.
Green Bean, Sweet Potato, Pumpkin Baby Food Recipe (Easy!)
This homemade green bean, sweet potato, and pumpkin baby food recipe is incredibly tasty, easy to prepare and store, and so nutritious for your baby. All natural ingredients. No animal by-products.
Equipment
pot

vegetable peeler

Food processor or blender

knife
Ingredients
6

ounces

pureed green beans

6

ounces

sweet potatoes (peeled)

2

ounces

pumpkin or winter squash (peeled)

2

cloves

garlic

1/4

cup

water
Instructions
After you peel your sweet potatoes and pumpkin with a vegetable peeler and cut into large chunks.

Place sweet potatoes, pumpkin, whole garlic, and green beans in a pot with about an inch of water covering over all vegetables.

Cover pot and put it halfway between medium and high for 30 minutes.

Strain water out and wait to cool.

Separate the sweet potatoes and pumpkin from the green beans after cooling.

Puree green beans in food processor or blender with 1/4 cup of water.

Strain green beans to remove large rough pieces. Put back in food processor. If liquid removed, reintroduce the same liquid back and re-blend.

Add sweet potatoes, pumpkin, and garlic. Puree all ingredients in a food processor until smooth.

Optional- Add up to 1/3 cup of your choice of breast milk or formula and puree until smooth.

Use and store in fridge for the next 2 days, or store in the freezer for up 1-2 months.
GOT QUESTIONS? I'm happy to help. Leave a comment and add some stars to let me know if you enjoyed this recipe. Let me know how you re-created it too. Also, please share it on social media. Tag #thenaturalfoodie. Thanks! -Salei
Please follow and like us: