Vegan Gouda Cheese Recipe
Posted On February 21, 2021
This vegan gouda cheese recipe came to existence because, ok, so cheese is life, and being super natural with food normally I had to look into making a really delicious vegan version. Best. Decision. Ever! Low Carb, Low Calorie, and Low Fat. Makes 16 ounces. Per 1 ounce serving: 5.5g Carbs, 3g Fat, 1.8g Protein
Who else runs to Pinterest or searches the grocery store for good vegan alternatives to cheese? Same here! It took a bit of trial and error, and I'm so excited to share this recipe with you because it is perfection. If I ever decide to totally give up cheese, I'm ok with it because I have this recipe.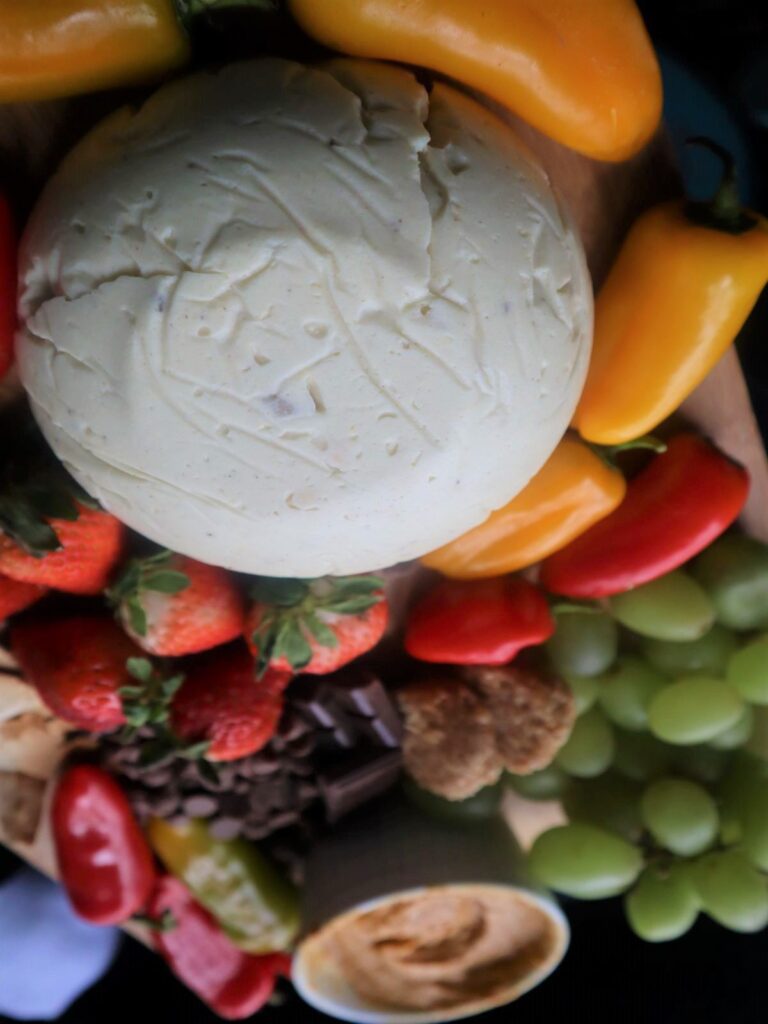 Disclaimer & Disclosure: There may be affiliate links in this post. Nothing here should be taken as medical advice. Please consult with a certified dietician or nutritionist about nutritional needs specific to you.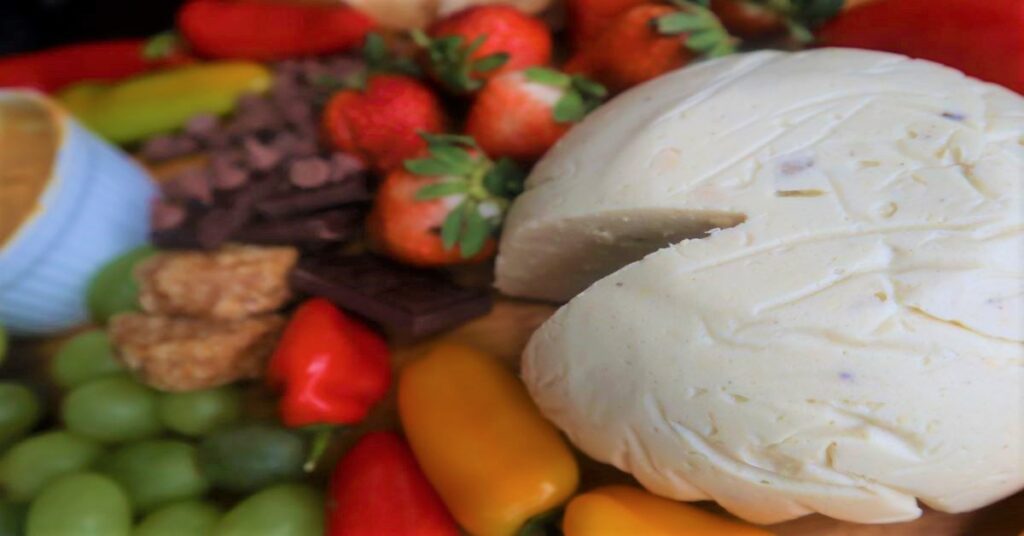 How To Make This Vegan Cheese Recipe Perfect Every Time
Ingredients For Non-Dairy Gouda Cheese:
Here's what you need in one grocery list:
Raw cashews, soaked (1 cup)
Tapioca flour, also known as tapioca starch (1/4 cup)
Nutritional yeast flakes (1 tbsp)
Pink Himalayan Salt, finely ground (1 1/2 tsp)
Lemon juice (1 tbsp)
Garlic powder (1 tsp)
Agar agar (1 1/2 tbsp)
Boiling water (1 1/2 cup)
FULL RECIPE PROVIDED IN RECIPE CARD!
Like this recipe? You may want to check out these other Vegan Food Recipes. Not vegan, cool! Check out these Vegetarian Food Recipes.
Recipe Variations
Try adding liquid smoke and/or onion powder too!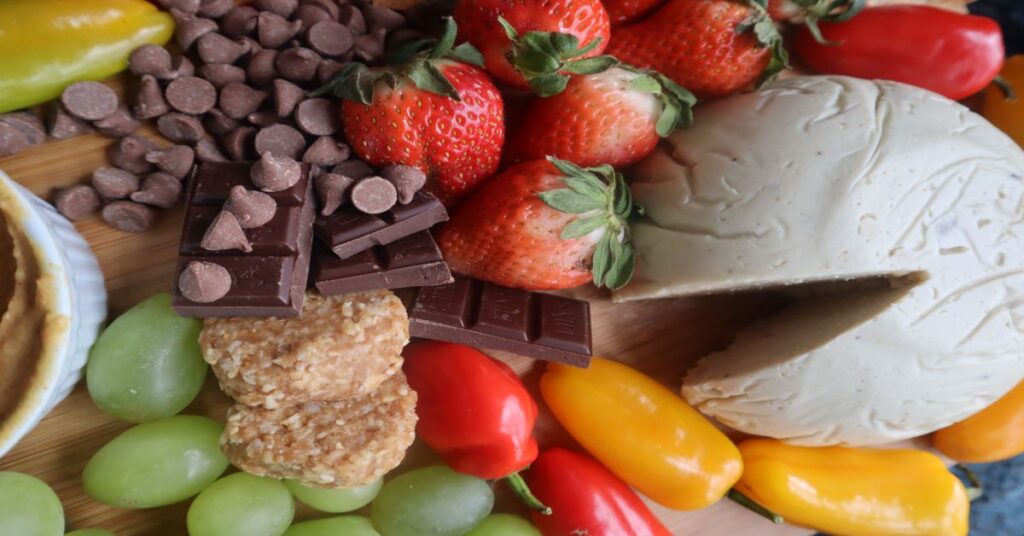 How To Make Vegan Block Cheese
The two ingredients necessary to get the right consistency for solid blocked cheese, shredded cheese, and/or melting cheese:
Agar Agar and Tapioca flour, also known as tapioca starch.
Once you have these two items, all forms of vegan cheese is a walk in the park! I've linked the brands I use. Agar agar is an amazon purchase, but tapioca flour is straight from the grocery store. I prefer the Telephone Brand for agar agar because it comes in little packets so it's convenient to use without opening a whole bag.
Why Is agar agar and tapioca flour so important?
Agar agar is the solidifying agent. It allows your non-dairy cheese to be in block form for a cheese board and it shreds beautifully.
Tapioca flour is what gives the stretchy and melting factors.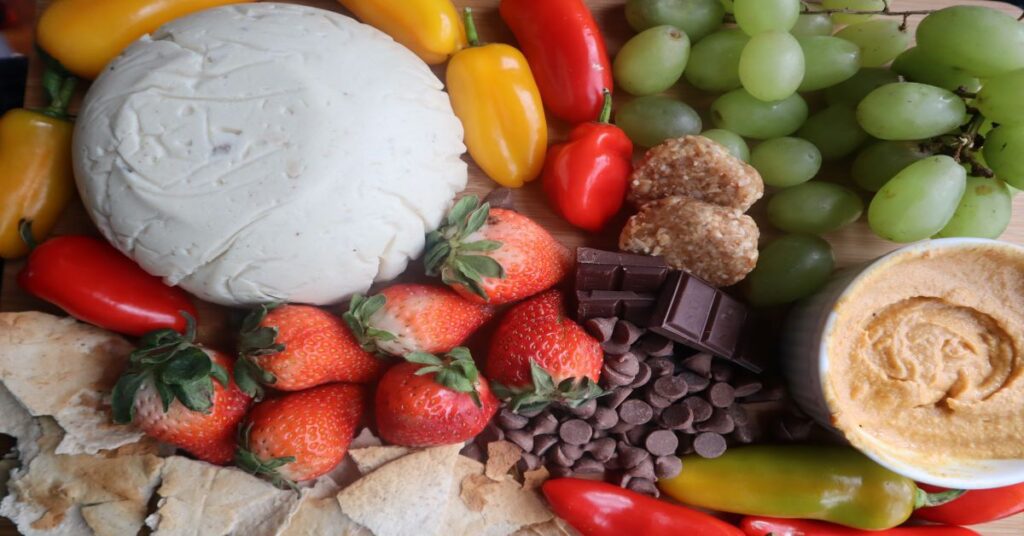 What Is Vegan Cheese Made Of?
This vegan cheese recipe is made with raw cashews. I've also been making nut-free vegan cheese using chickpea flour and sunflower seeds for example. I absolutely adore making vegan mac and cheese with a few tweaks to this recipe or my smoked cheddar vegan cheese dip recipe. Literally the best. I'll be updating this post when I get the chance to post those recipes, so please consider subscribing so you can get recipes when they come out!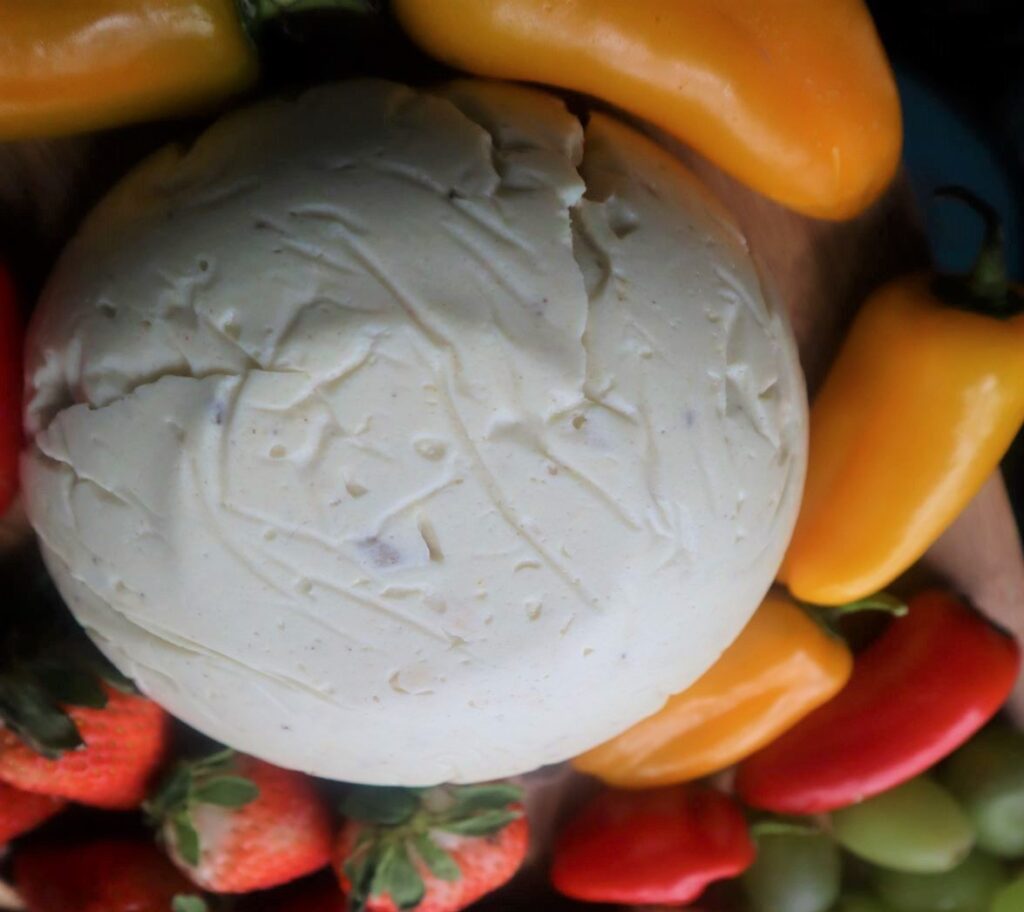 Vegan Gouda Cheese Recipe
This vegan gouda cheese recipe came to existence because, ok, so cheese is life, and being super natural with food normally I had to look into making a really delicious vegan version. Best. Decision. Ever! Low Carb, Low Calorie, and Low Fat!
Per 1 ounce serving: 5.5g Carbs, 3g Fat, 1.8g Protein
Equipment
blender or food processor

pot

whisk

bowl

saran wrap or cling wrap
Ingredients
1

cup

Raw cashews, soaked

soak in hot water for 30 minutes to 8 hours

¼

cup

Tapioca flour, also known as tapioca starch

1

tbsp

Nutritional yeast flakes

1½

tsp

Pink Himalayan Salt, finely ground or salt of choice

1

tbsp

Lemon juice

1

tsp

Garlic powder (1 tsp)

1½

tbsp

Agar agar

1½

cup

Boiling water
Instructions
Submerge raw cashews in hot water and soak for a minimum of 30 minutes up to overnight (8 hours). The longer you soak the cashews, the softer they are during the blending process. I find it works well with a 30 minute soak.

Add soaked cashews, tapioca flour, nutritional yeast flakes, salt, garlic powder, and lemon juice to blender or food processor and blend until smooth. If necessary, add only a very small amount of water to help blending up to ⅛ cup. I do not add water during this stage however.

Boil 1½cup of water and add agar agar to it once it is boiling. Immediately remove from heat and scrape blended ingredients to pan and whisk.

The cheese will be thick and stretchy. Pour into a bowl or ramekin of choice and cover with a kitchen towel or saran wrap.

Allow cheese to set in fridge for at least 2 hours to solidify.

Once solid, turn bowl over and remove cheese block. Serve on a cheese board, shred as desired, or use as desired!

Storage: Keep leftovers wrapped in cling wrap and use within 7-10 days.
GOT QUESTIONS? I'm happy to help. Leave a comment and add some stars to let me know if you enjoyed this recipe. Let me know how you re-created it too. Also, please share it on social media. Tag #thenaturalfoodie. Thanks! -Salei
Please follow and like us: