Cashew Butter Chia Seed Pudding
Posted On January 6, 2021
This cashew butter chia seed pudding is beautifully nutty, creamy, and rich. I top it with blueberries and sometimes also grain-free granola to add more textures to it. It's the perfect vegan breakfast choice. I also add plant protein to mine to really fuel my day with all the plant-based goodness. 15grams of protein per serving!
Jump to Recipe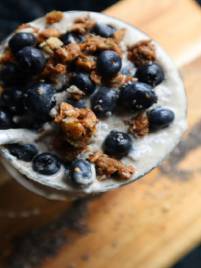 Disclaimer & Disclosure: There may be affiliate links in this post. Nothing here should be taken as medical advice. Please consult with a certified dietician or nutritionist about nutritional needs specific to you.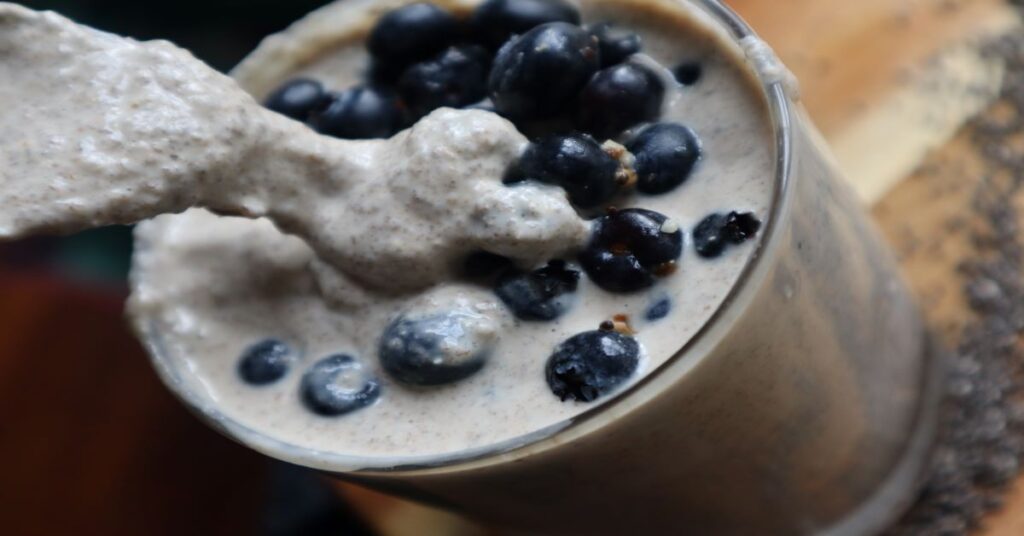 What I Love About This Cashew Butter Chia Seed Pudding Recipe
For anyone who doesn't like the texture of chia seed pudding, this recipe is for you. This recipe is creamy like a porridge or cream of wheat. It's so good.
Chia seeds are packed with amazing health benefits
Versatile vegan breakfast or snack choice- blend it (like this recipe) or leave it to soak over night. Either way, you have a quick and easy meal
Easy vegan recipe. Completely plant-based!
Absolutely great flavor.
I love the cashew butter. It's a great flavor and pairs well with so many fruits so get creative with toppings!
All ingredients are easy to find in local grocery store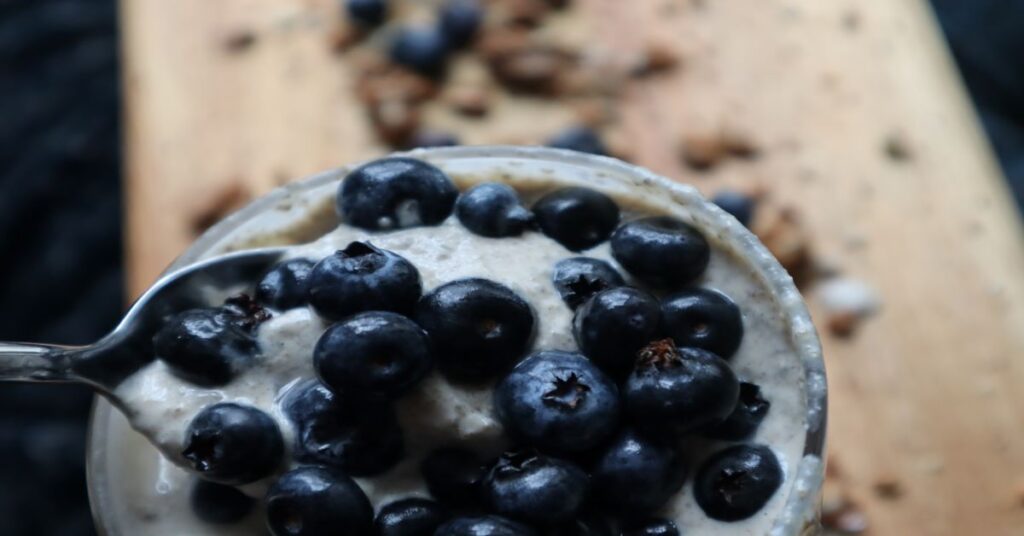 Notes + Tips For This Cashew Butter Chia Seed Pudding
What is chia seed?
Who would have known the "cha-cha-cha-chia" pets contained an amazing superfood on them. Chia seeds are tiny black seeds from the plant Salvia hispanica, and have been a source of nutrients since ancient times. "Chia" is the ancient Mayan word for strength which makes sense knowing its history as a great source for energy.
Like this recipe? You may like these too. Breakfast Recipes, Vegan Recipes, Vegetarian Recipes
Benefits of chia seeds
Chia seeds contain omega-3 fatty acids which have shown a beneficial effect on cardiovascular health (lowering cholesterol, regulating heart rhythms and blood pressure, preventing blood clots, decreasing inflammation). The fiber in chia seeds may help lower bad cholesterol and also aid in slowing down digestion which promotes fullness.
When I started eating chia seeds regularly, it helped me in my weight loss and health journey. It definitely helped me feel full longer and gives me energy to run around with my kids while maintaining a legal practice.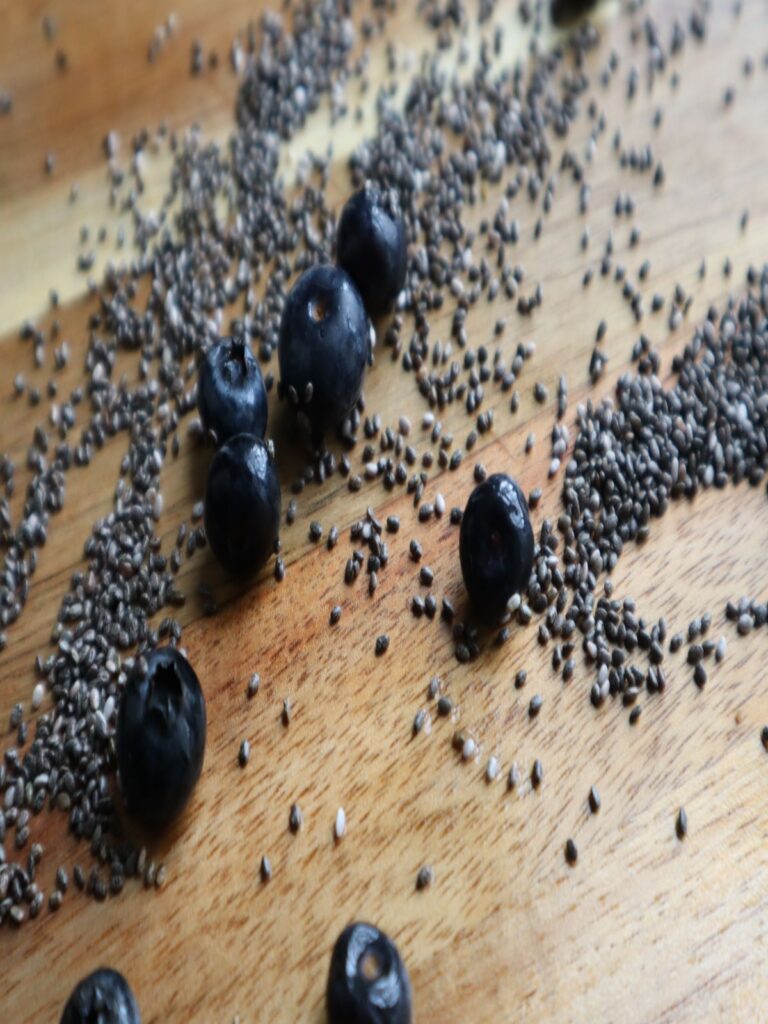 Chia seeds nutrition
Two tablespoons of chia seeds (1 ounce or 28 grams) contain about 140 calories, 4 grams of protein, 11 grams of fiber, 7 grams of unsaturated fat, 18% RDA for calcium, and trace minerals including zinc and copper. They are the richest plant source of omega-3 fatty acids. Chia seeds are a complete protein, containing all nine essential amino acids that cannot be made by the body. The nutritional benefits of chia seeds was obtained here. Source: Harvard School of Public Health.
*If using this chia seed pudding recipe as baby food make sure you have introduced nuts previously to your child. Here are other homemade baby food recipes to try.
Useful Tips For Making This Recipe Even Easier
Cashew butter has a mild but distinct rich, creamy, nutty flavor. Berries go great with it as do many other fruits so get creative with toppings.
When blending chia seeds, like in this recipe, there is no need to leave it overnight to soak and expand. It is ready immediately. If you decide to prepare it the night before, it is just as delicious the next morning so an easy recipe however you choose to meal prep.
Here is the all-plant protein powder I use. I love it because it is truly tasteless and adds 10 grams of protein to this meal when adding one serving. It's one of my go-to ways to add more protein to soups, pancakes, and smoothies.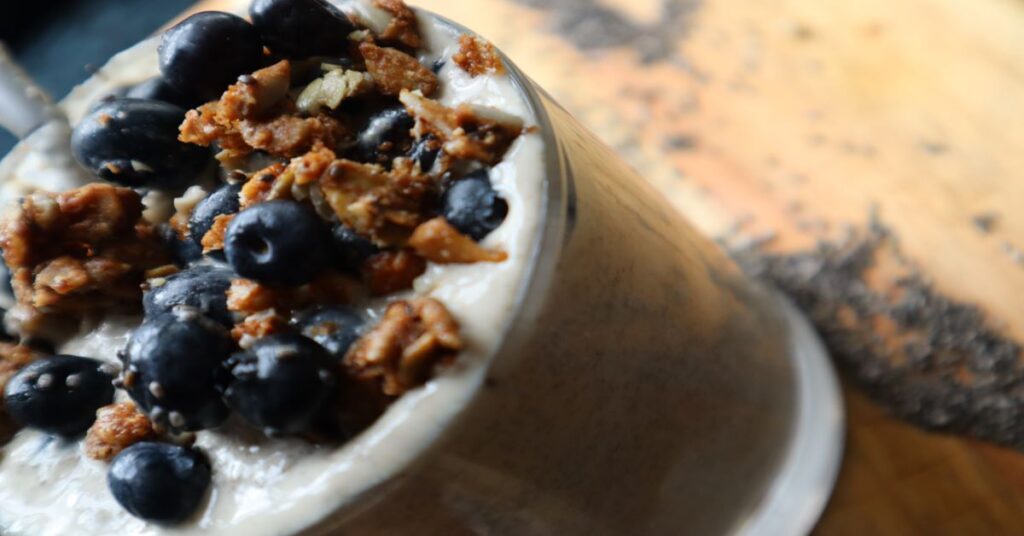 Cashew Butter Chia Seed Pudding
This cashew butter chia seed pudding is beautifully nutty, creamy, and rich. Topped with blueberries and blended with plant-based protein powder, it's the perfect vegan breakfast choice. Really fuel the day with all the plant-based goodness. 17 g Net Carbs (Without blueberry topping 11g net carbs) 18g Fat 15g Protein
Ingredients
½

cup

Unsweetened Vanilla Almond Milk

2

tbs

chia seeds

usually in baking aisle of grocery store

1

tbs

cashew butter

find in grocery store where peanut butter is located

1

tsp

organic maple syrup

2

level scoops

Nutrilite All Plant Protein

see above for link to protein powder

¼

cup

fresh blueberries
Instructions
Combine all ingredients and blend

Pour in cup and top with blueberries

Serve immediately or refrigerate overnight for breakfast the next day. Use within 3 days.
GOT QUESTIONS? I'm happy to help. Leave a comment and add some stars to let me know if you enjoyed this recipe. Let me know how you re-created it too. Also, please share it on social media. Tag #thenaturalfoodie. Thanks! -Salei
Please follow and like us: