Vegan Pancakes Recipe
Posted On April 3, 2021
Anything you eat, I can make vegan, especially pancakes. Just come to me you steaming stack of delicious, fluffy, light and airy pancakes.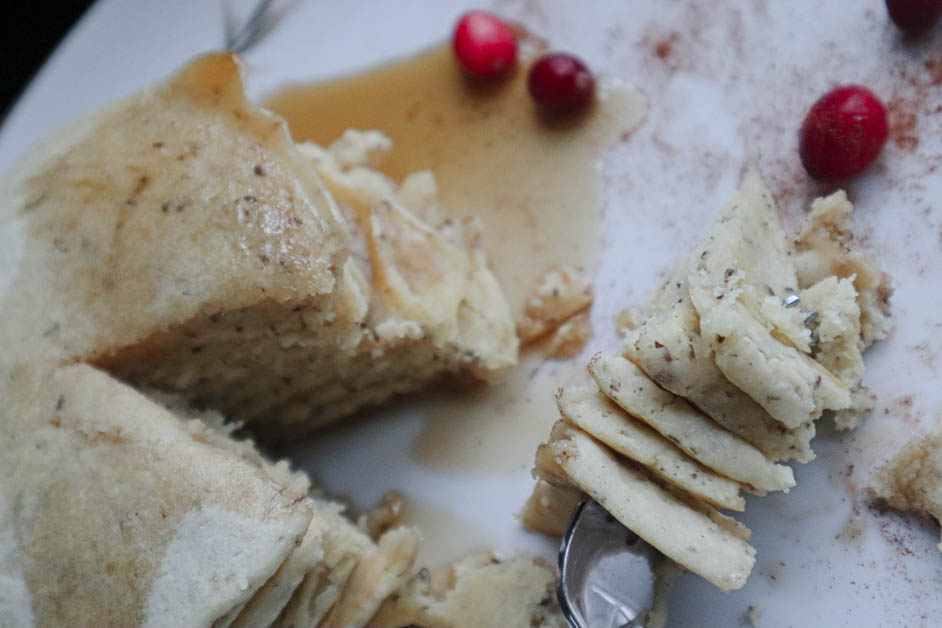 My children always want pancakes. The more natural I eat, I find myself leaning towards vegan meals. I never knew how easy it would be to make wonderfully light, fluffy, and buttery pancake without dairy or eggs. And honestly, little things like not worrying about having eggs around to make my kids favorite weekend breakfast brings me joy.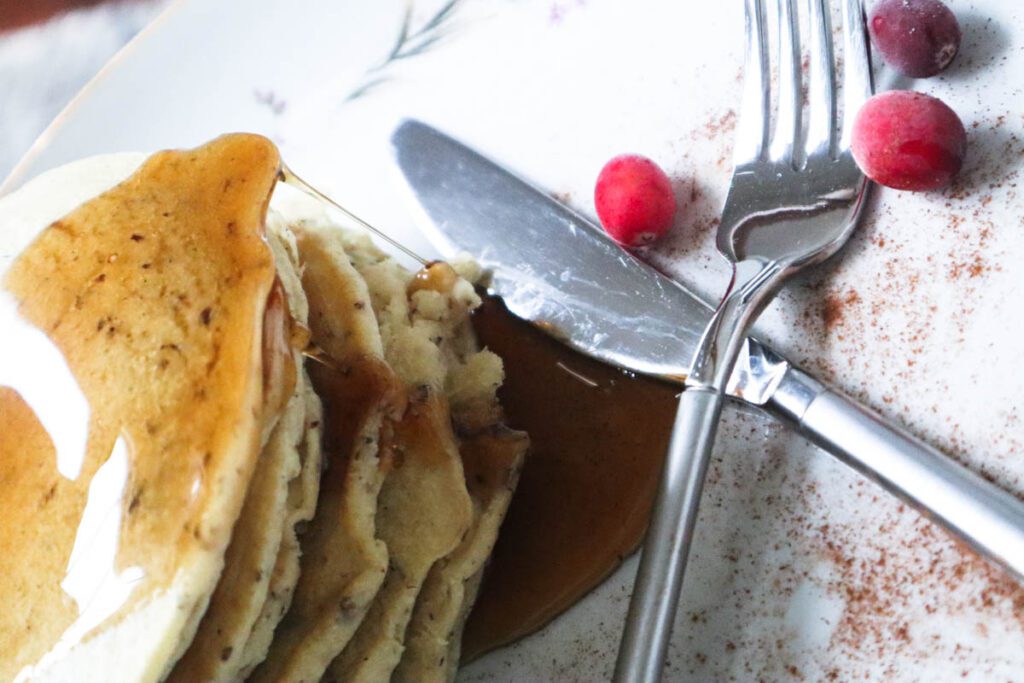 What I Love About These Vegan Pancakes
A stack of pancakes is eyes bigger than stomach, but who can resist when it's so affordable, even vegan! Every item (except the plant-based milk) is a pantry item so no quick expiration dates to worry about because even plant-based milk has a long shelf-life.
Like I said, it's really easy to prepare.
Cheap ingredients found in every grocery store
One bowl recipe, i.e. extremely easy cleanup
Fluffy and delicious melt in your mouth pancakes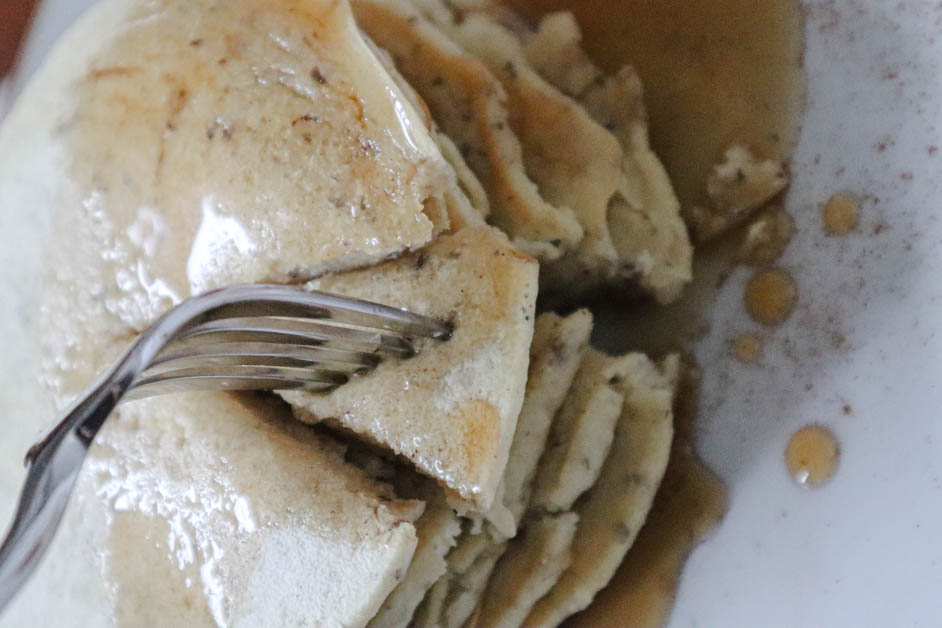 How To Make Vegan Pancakes From Scratch
Here's what you need in one grocery list:
All-purpose, unbleached flour (or flour of choice)
Coconut flour
Baking soda
Baking powder
Light brown sugar (Golden monk fruit sweetener for sugar-free alternative)
Ground cinnamon
Fine pink Himalayan salt (or salt of choice)
Vanilla Bean Paste (or pure vanilla extract)
2 flax egg
Non-dairy unsweetened coconut milk (not the canned version, but where milk is located)
Melted coconut oil
FULL RECIPE WITH MEASUREMENTS PROVIDED IN RECIPE CARD BELOW. Like this recipe? Check out these Buttermilk Pancakes (vegan instructions provided in it's post) and other Quick Bread Recipes. Here are other Breakfast Recipes as well as a full archive of Vegetarian Recipes and Vegan Recipes for you to browse.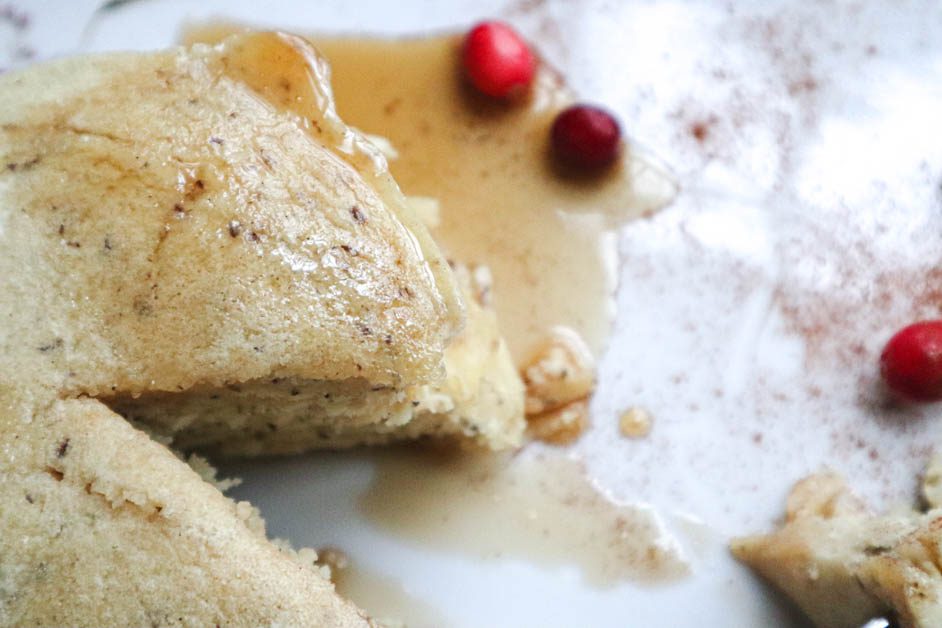 Disclaimer & Disclosure: There may be affiliate links in this post. Nothing here should be taken as medical advice. Please consult with a certified dietician or nutritionist about nutritional needs specific to you.
Tips + Tricks To Make This Vegan Pancake Recipe Perfect Every Time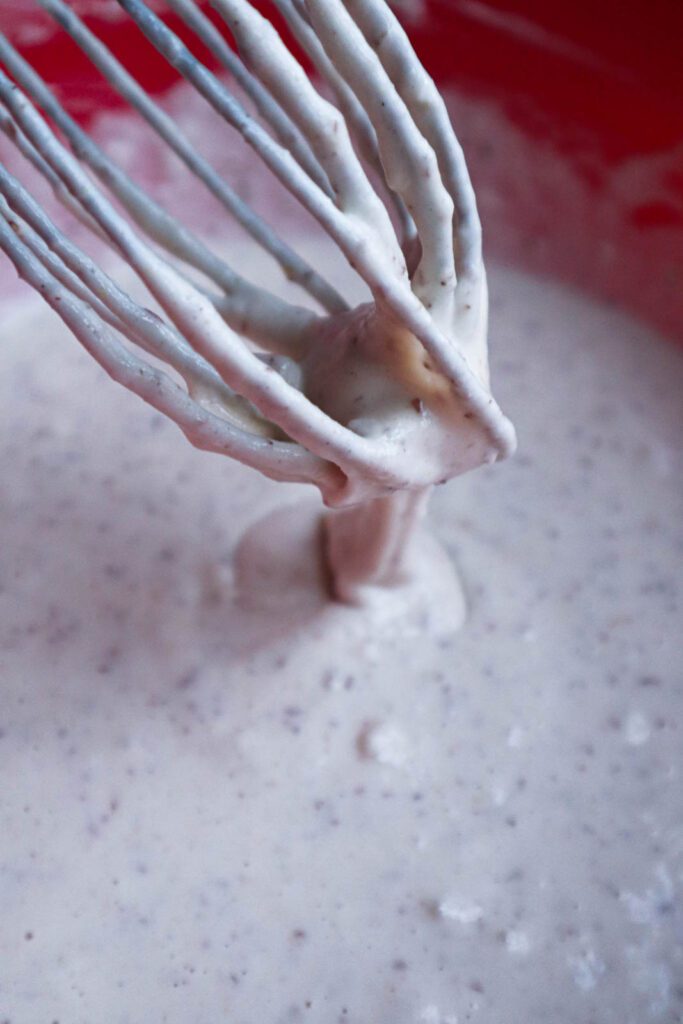 It's all about the batter
When it comes to vegan pancakes, your batter has no dairy or eggs for binding. If your batter is too thick, your pancakes will be gluey and undercooked. If it's too runny, forget about flipping them.
Use a sieve thru the dry ingredients when incorporating them.
Mix wet ingredients into the dry ingredients with a spoon and after incorporating, use a whisk to get remaining clumps out for a smooth batter.
Don't add too many mix-ins so batter isn't too thick.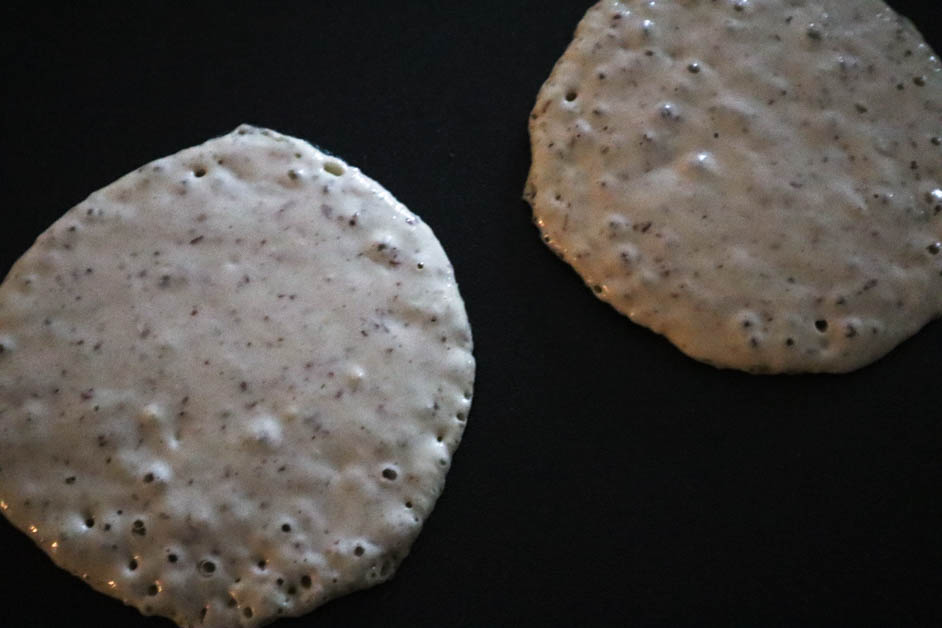 Flip It Like a Pro
My griddle is my best friend when it comes to pancakes. No griddle? No problem! Use a non-stick pan and in either situation DO NOT grease the pan or griddle.
Heat griddle to 250 degrees Fahrenheit. If stovetop, put the burner on medium heat and pre-heat it for a few minutes so it's an even temperature before placing batter.
Use the 1/4 measuring cup as your scoop of the batter and your circles won't be too big for a fluke flip.
Use an extra wide heat resistant spatula to flip. The extra wide helps get enough of the pancake on the spatula to avoid a fluke flip.
Wait for lots of bubbles to pop before flipping! Usually this is 2-3 minutes per side.
Recipe Variations- Mix it up with mix-ins and toppings!
This vegan pancake recipe is your base for all kind of pancake heaven. Mix in your favorite berries, chocolate chips, or chopped nuts for some fun. Or throw some of these on as toppings with some dairy-free whip cream.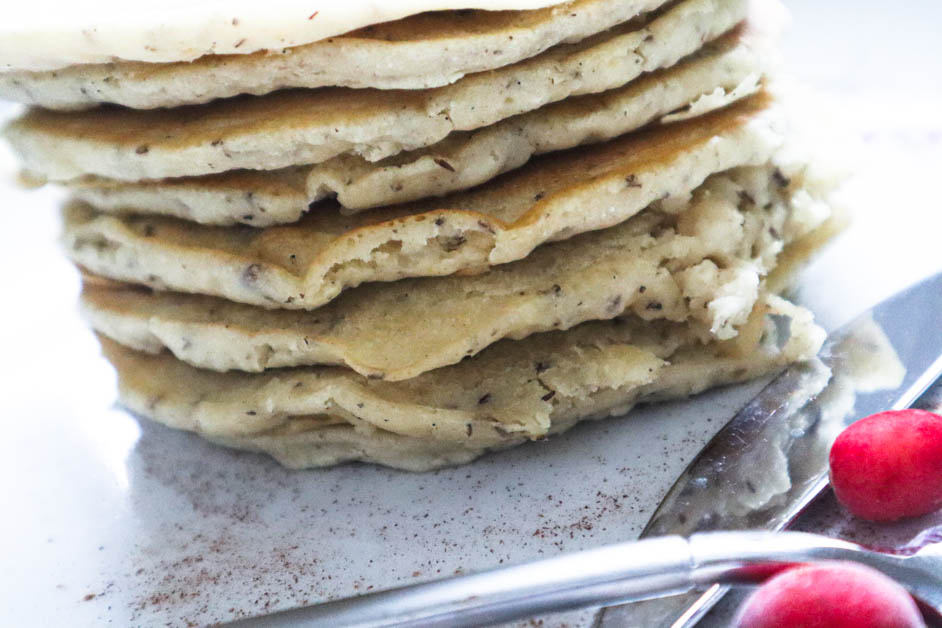 Vegan Pancakes Recipe
A steaming stack of deliciously light and airy vegan pancakes.
20g Net Carbs 4.8g Fat 3.1g Protein
Equipment
griddle or non-stick skillet

large mixing bowl

whisk or spoon

wide spatula for flipping
Ingredients
Dry Ingredients
2

cups

All purpose unbleached flour

¼

cup

coconut flour

use this after everything else is mixed together

1

tsp

baking soda

2

tsp

baking powder

2

tbsp

brown sugar (packed)

use golden monkfruit sweetener for sugar-free

¼

tsp

salt (pink Himalayan salt preferred)

¼

tsp

cinnamon
Wet Ingredients
2

flax eggs

1 Flax egg = 3 tbsp warm water + 1 tbsp flax meal

½

tsp

vanilla bean past

sub using 1 tsp vanilla extract

2

cups

non-dairy unsweetened coconut milk

from section where other milk belongs, not canned

2

tbsp

melted coconut oil
Instructions
If using non-stick skillet, pre-heat pan with no oil while mixing batter to get an even temperature

Combine all wet ingredients together in the same bowl

Add in the dry ingredients, adding the coconut flour last.

Mix with spoon and then whisk to get a nice smooth batter

Using a ¼cup measuring cup, pour batter onto griddle, forming three circular pancakes at one time.

Wait until there are a significant amount of air bubbles in the batter to signify when to flip, usually about 3-5 minutes.

Flip pancake and cook for another 3-5 minutes.

Pour on the maple syrup. Eat immediately!
GOT QUESTIONS? I'm happy to help. Leave a comment and add some stars to let me know if you enjoyed this recipe. Let me know how you re-created it too. Also, please share it on social media. Tag #thenaturalfoodie. Thanks! -Salei
Please follow and like us: