Chocolate Orange Bread Pudding Recipe
Posted On June 13, 2021
If you're craving a sweet breakfast casserole, this chocolate orange bread pudding recipe is just for you. It's a great way to use the rest of my Homemade Chocolate Orange Braided Bread. Just like my homemade bread, this breakfast casserole is a vegan food recipe. Vegan custard is super easy to make as you shall see!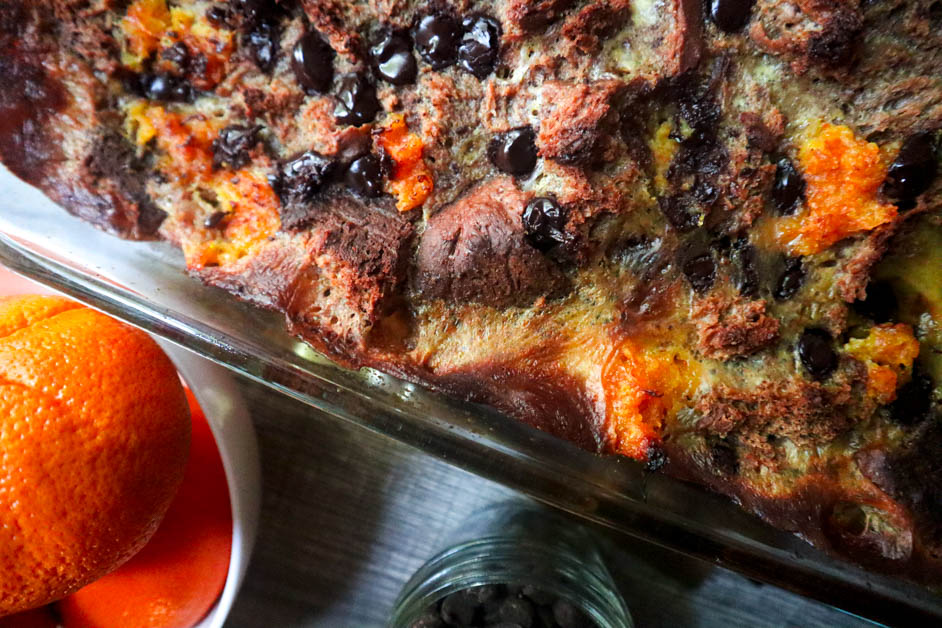 Some days my sweet tooth is like let's start the day the sweet way. I'm cool with that! Beautiful thick bread cannot go to waste, and vegan custard is the way to go. No need to worry about having eggs around and it's a dish the whole family enjoys. A dairy-free and vegan dish, so really a healthier option for a comfort food breakfast. Although I usually enjoy this as a breakfast casserole recipe, my kids think it's dessert. Winning!!!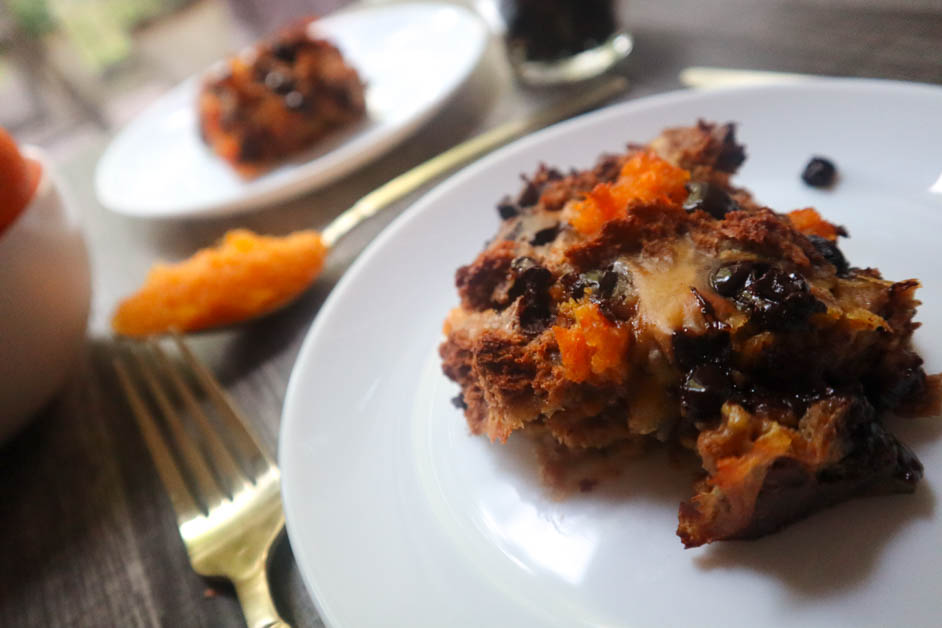 WHAT I LOVE ABOUT THIS VEGAN BREAD PUDDING RECIPE
Ya'll heard it's got chocolate in it right? Enough said! But wait, it's got oranges too? Ok, bye.
Easy recipe. All ingredients can be found at any grocery store.
Vegan and dairy-free
Kid approved!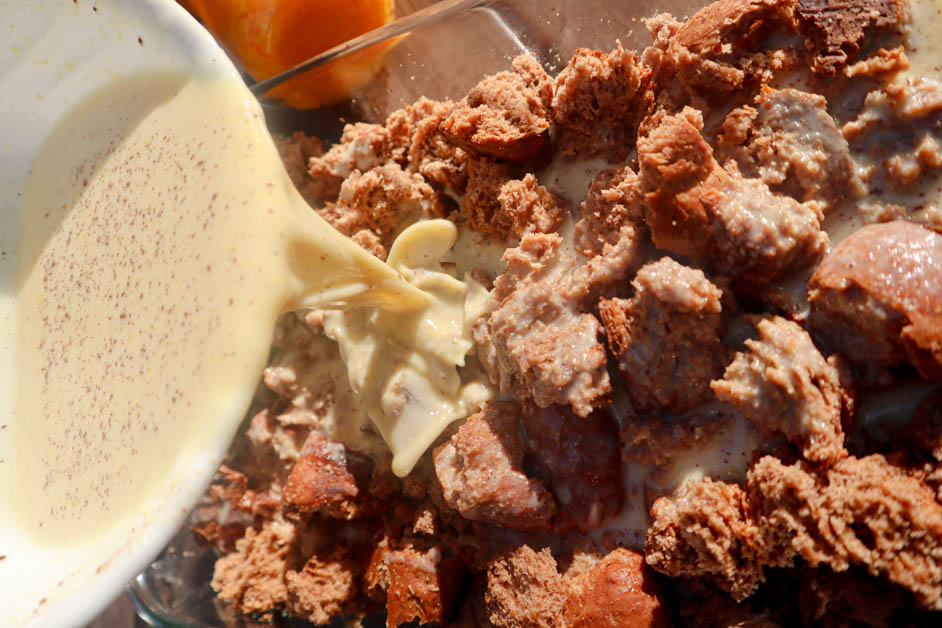 How To Make Bread Pudding, Vegan edition! For A Delicious Breakfast Casserole Every Time
Step 1: Make my homemade chocolate orange braided bread! It's heavenly.
Step 2: Make the vegan custard
Step 3: Make the magic happen by combining these two wonders.
Bake. Eat. Enjoy.
FULL RECIPE PROVIDED IN RECIPE CARD BELOW. Like this recipe? You may like these too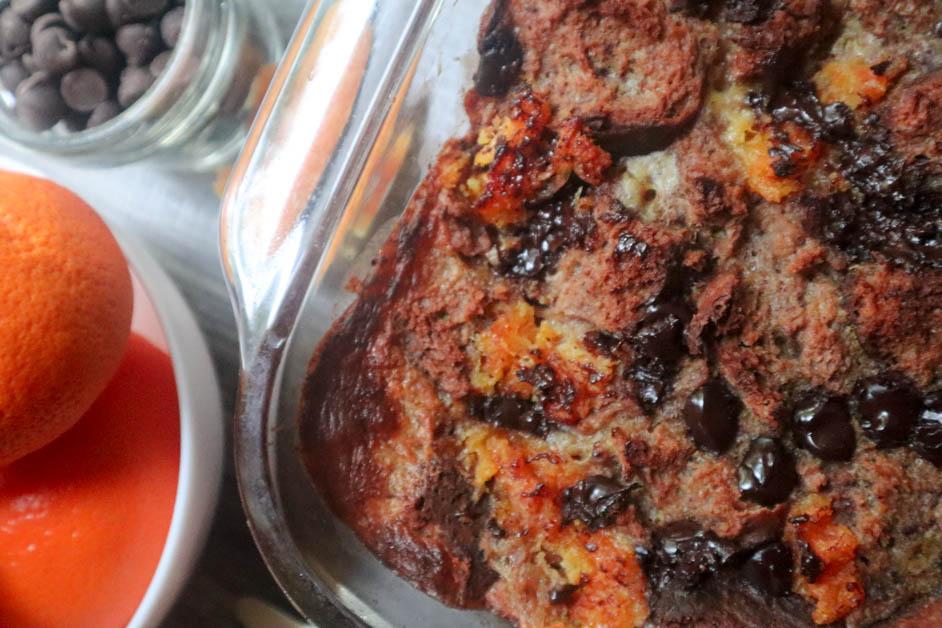 Disclaimer & Disclosure: There may be affiliate links in this post. Nothing here should be taken as medical advice. Please consult with a certified dietician or nutritionist about nutritional needs specific to you.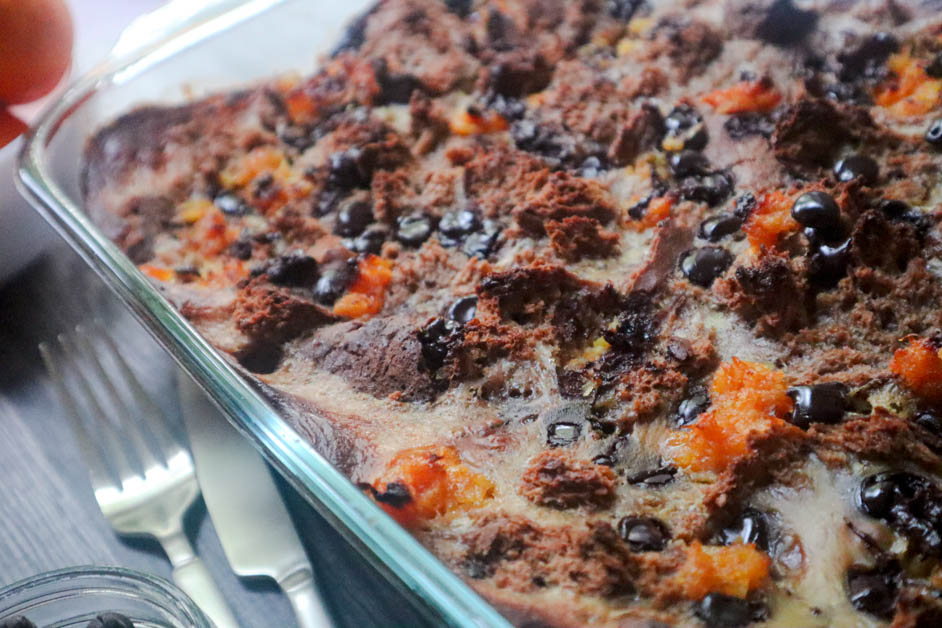 Tips + Notes: Chocolate Orange Bread Pudding Recipe
My homemade braided bread recipe is the bread I highly recommend using for this recipe. So easy to make! If you don't want to make the bread just yet, keep in mind, the thicker the bread the better!
Again, refer to my braided bread recipe for the marmalade-ish mixture. This is not orange marmalade, but a mixture I use that although I don't eat as it, works so great in dishes such as this chocolate orange bread pudding recipe.
If vegan, remember to use vegan chocolate chips! Dark chocolate is the best for this recipe.
Speaking of chocolate, I use sugar-free Torani chocolate syrup in this recipe. Great taste but lessens the overall sugar content.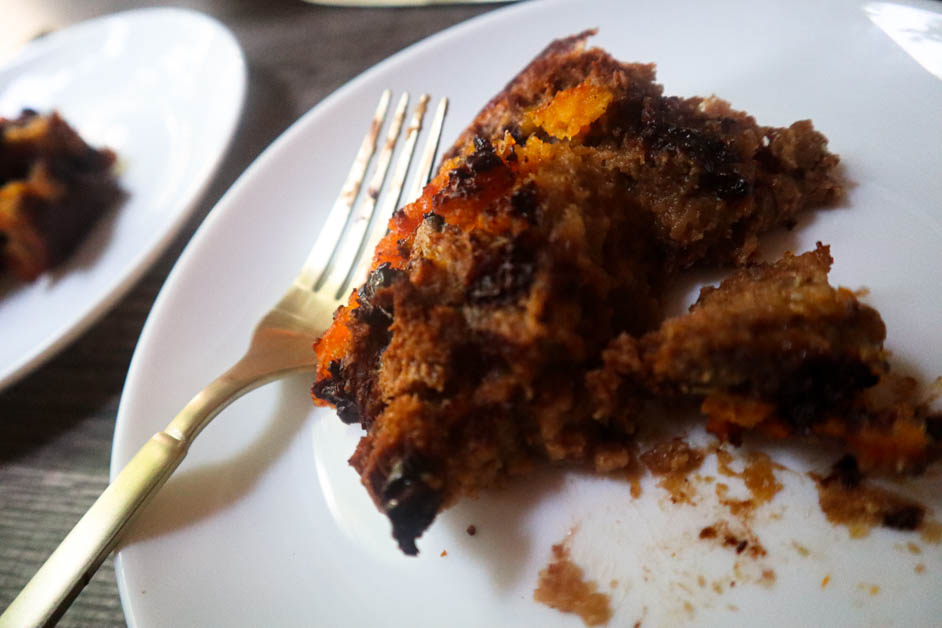 Recipe Variations
If not vegan, use 6 eggs and buttermilk. Leave the remaining ingredients the same.
I take a subtle approach to the amount of sugar in the custard. My personal favorite is shared in the recipe card at 3/4 cup of sugar. Depending on your liking however, anything more than 2 cups of sugar is too much. Remember there is chocolate syrup, chocolate chips, and orange marmalade in this recipe too.
Other bread to use: challah, brioche, or any thick crusty bread. Day old or stale preferred.
I hope you enjoy this breakfast casserole as much as my family does. Dig in!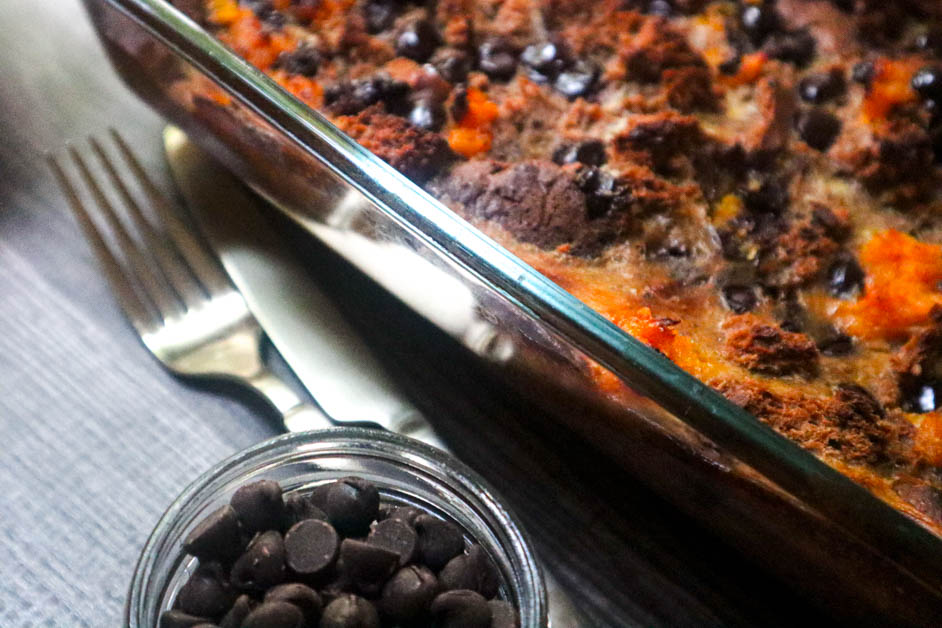 Chocolate Orange Bread Pudding Recipe
This chocolate orange bread pudding is a creamy, delicious sweet breakfast casserole. It uses vegan custard too. Dairy-free & Vegan Recipe.
31g Carbs 6g Fat 6.5g Protein
Equipment
9×14 rectangular casserole dish

mixing bowl
Ingredients
⅔

loaf

thick crusty bread (brioche, challah, etc.)

see my Homemade Chocolate Orange Braided Bread Recipe. This is the bread of choice for this recipe

¾

cup

granulated white sugar

1¼

cup

Just Egg

if non-vegan, use 6 eggs

3

cups

non-dairy unsweetened coconut milk

I use Silk brand

1½

tsp

pure vanilla extract

1

tsp

ground cinnamon

¼

tsp

ground nutmeg

2-4

tbsp

chocolate syrup (Torani sugar-free chocolate syrup)

optional! ONLY USE IF NOT USING MY BRAIDED BREAD RECIPE as the homemade bread recipe has this in it already.
Instructions
Lightly grease casserole dish

Break stale bread of choice into chucks and spread it evenly across casserole dish

Make custard by simply whisking together sugar, just egg, milk, vanilla extract, cinnamon, and nutmeg.

Pour custard liberally onto stale bread chunks.

Allow custard will soak into bread thoroughly.

Top bread pudding with 2-3 TBSP of orange marmalade mixture from my Homemade Chocolate Orange Braided Bread Recipe, and ½ cup of semi sweet baking chocolate chips or dark chocolate chips.

Bake at 350°F for 1 hour.

If you reserved any custard, pour over individual portions. Serve immediately.

So good, leftovers don't really exist. If they do, use within 2-3 days. Store in fridge in an air tight container.
GOT QUESTIONS? I'm happy to help. Leave a comment and add some stars to let me know if you enjoyed this recipe. Let me know how you re-created it too. Also, please share it on social media. Tag #thenaturalfoodie. Thanks! -Salei
Please follow and like us: