Easy Vegan Banana Bread Recipe
Posted On February 23, 2021
This banana bread recipe is easy, vegan, and absolutely delicious. Tested to perfection because I make this pretty much every week. My kids love love love it. Although I'm not vegan (let's keep hope alive here), I love that this recipe requires no eggs and dairy. I actually prefer this vegan banana bread recipe to any other banana bread recipe I've tried, vegan or not.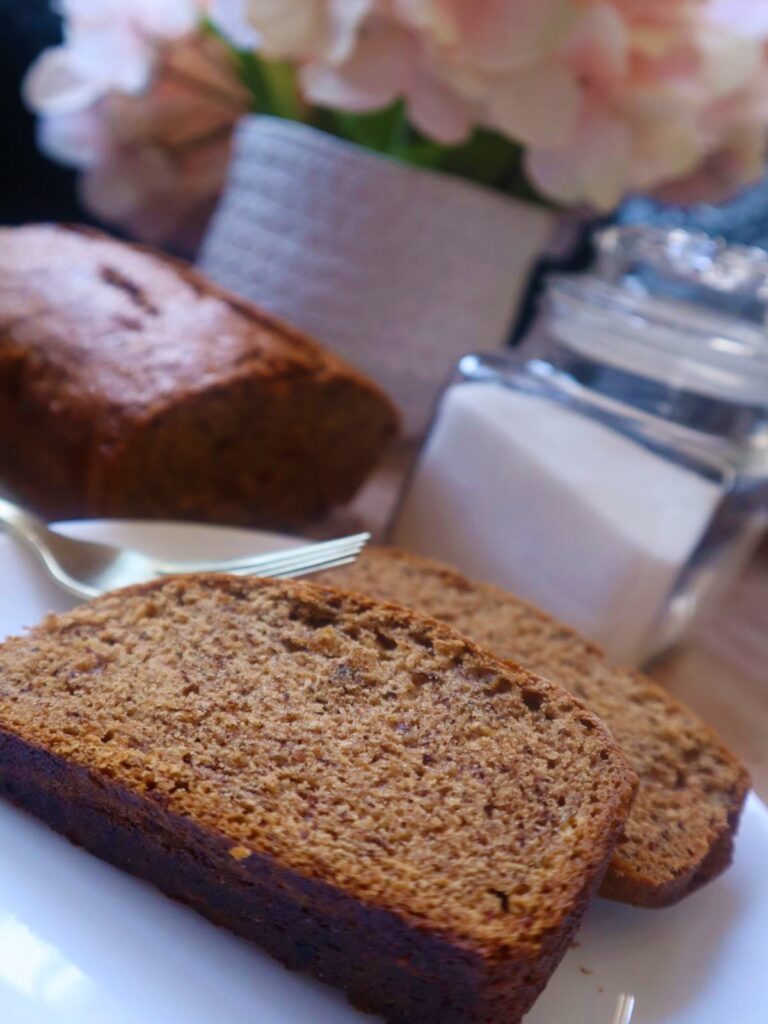 Disclaimer & Disclosure: There may be affiliate links in this post. Nothing here should be taken as medical advice. Please consult with a certified dietician or nutritionist about nutritional needs specific to you.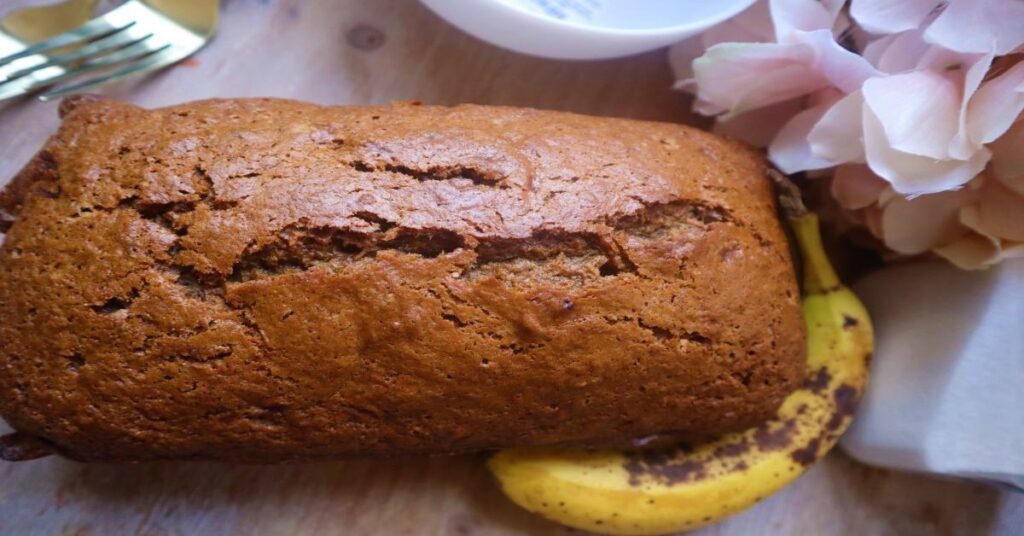 WHAT I LOVE ABOUT THIS BANANA BREAD RECIPE
Easy to find ingredients & Inexpensive
Totally vegan recipe
Super kid-friendly
A delicious, perfectly textured, moist breakfast, snack, or dessert
What's The Big Deal About Banana Bread Recipe Being Vegan?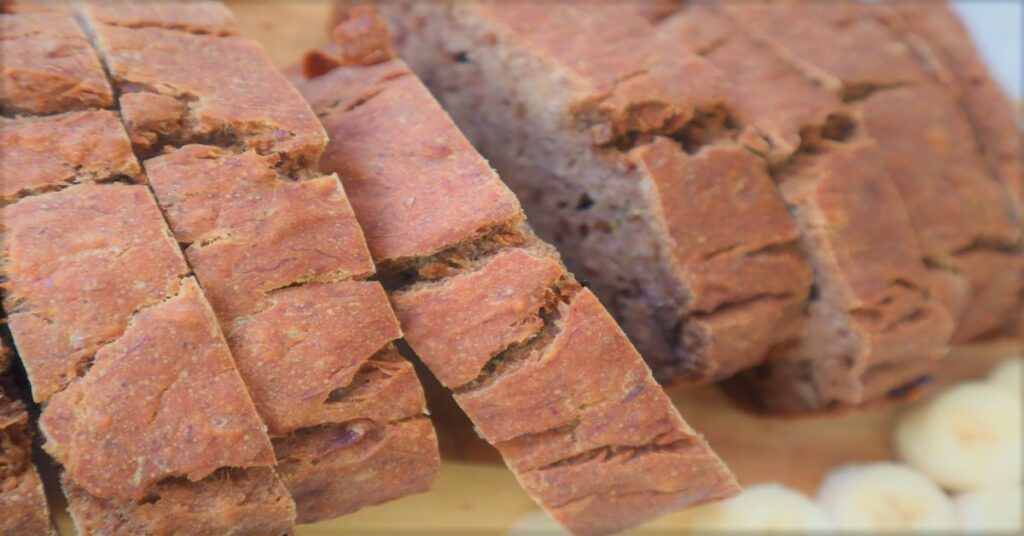 The Question Why Is Banana Bread Bad For You Comes to Mind.
Not everyone searching for a vegan food recipe is vegan. Many people who are dairy intolerant or have health conditions such as high cholesterol for example, are searching for ways to use better, more natural, plant-based ingredients. I share a LOT of vegan recipes and vegetarian recipes. Why not? Plant-based meals are delicious and they don't have to be expensive either. Natural foods are so good for our bodies!
On that same note, banana bread recipes made with butter and eggs will come out higher in unhealthy saturated fat and cholesterol, whereas vegan banana bread recipes are just as easy, but will come out with more heart-healthy ingredients. So if you're anything like me and love using up ripe bananas, then this vegan banana bread recipe is a great easy recipe to have on hand.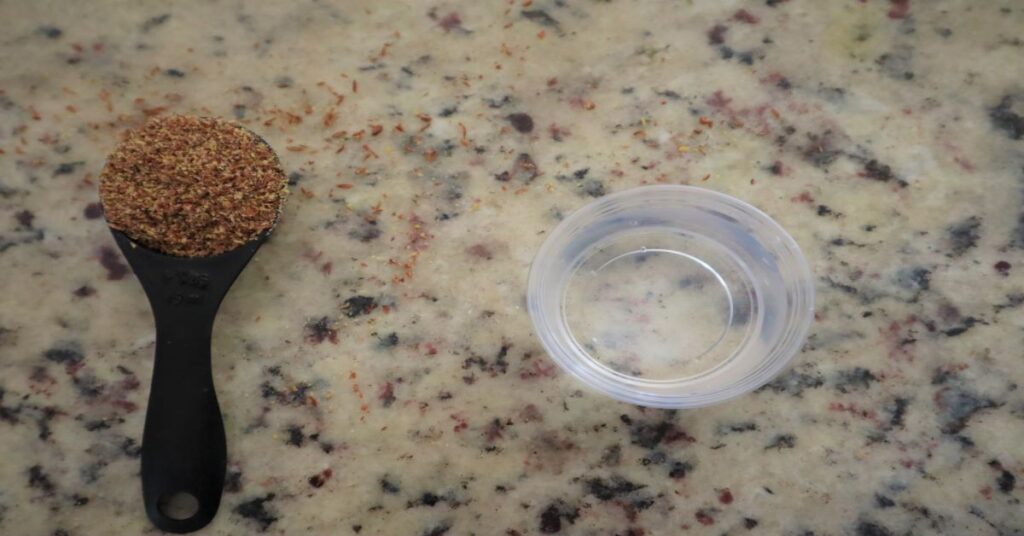 How To Make A Flax Egg
Flax Eggs are great binders. They have some fat to it so a very good option without all the cholesterol. To make a Flax egg is really simple. 1 TBSP ground flax meal and 3 TBSP hot water. Allow it to sit for a few minutes to thicken but I also have mixed it and added almost immediately and it didn't affect my recipes.
Other Vegan alternatives to eggs include chia eggs. Use the same method as the flax egg just substitute with chia seeds. For this recipe, I use flax eggs.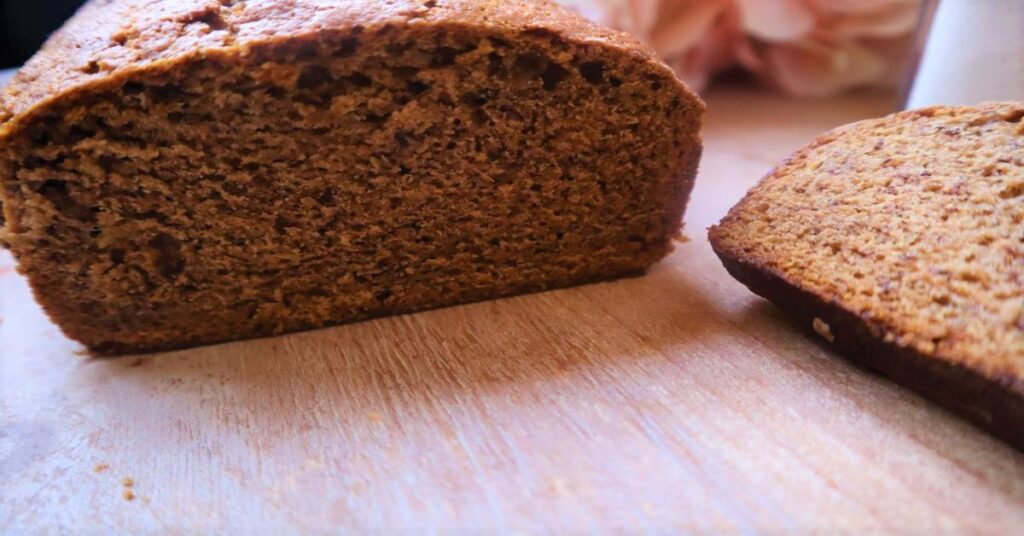 Ingredients For This Easy Vegan Banana Bread Recipe
Dry Ingredients
2 cups flour
1 tsp baking soda
1 cup light brown sugar (packed)
1/4 tsp salt (I use fine pink Himalyan)
1 tsp cinnamon
1 tsp allspice
Wet Ingredients
1 1/2 cup mashed ripe bananas (2-3 bananas)
1 tsp vanilla extract
2 flax eggs (1 flax egg = 1 tbsp group flax meal + 3 tbsp hot water)
1/4 cup pure maple syrup
1/2 cup vegan butter (melted)
After mixing dry into wet, gently fold in 1/2 cup of add-ins of choice. Full instructions on recipe card below.
Recipe Variations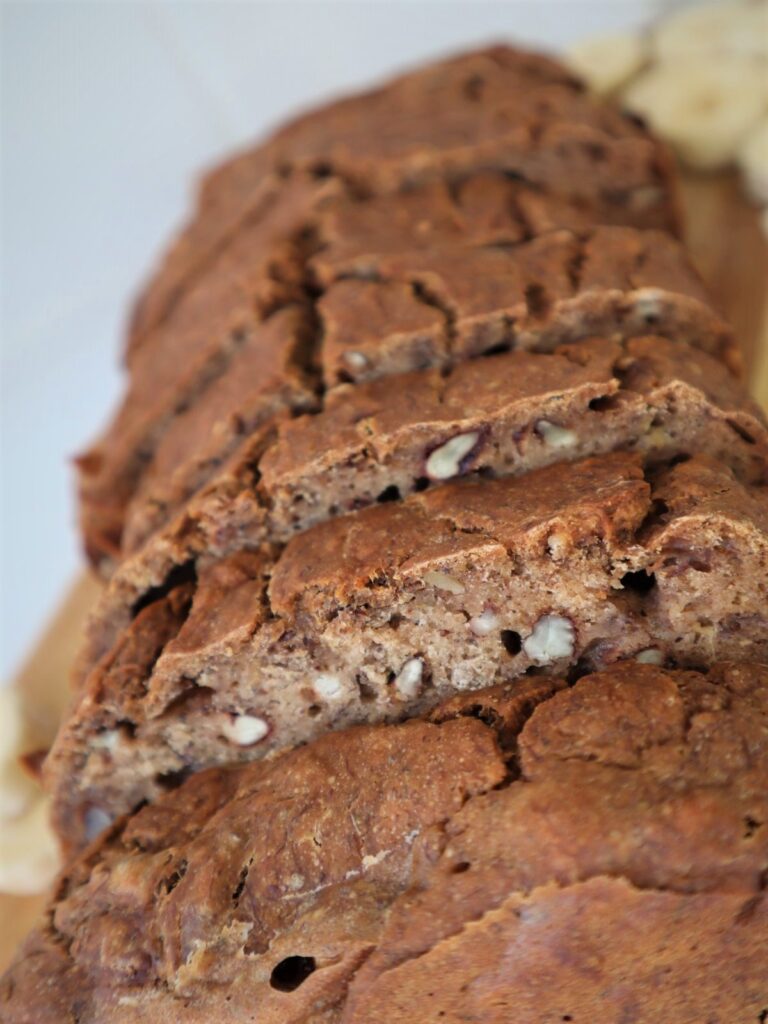 It's all about the add-ins! My favorite add-ins are:
Pecans or walnuts
Chocolate chips and/or cocoa powder
Shredded carrots and/or zucchini
Check out this article from Taste of Home for more more banana bread upgrade ideas! I'll be updating this post for links to more banana bread recipes when they are available on the site. I have a great chocolate chip banana nut muffin I can't wait for you guys to try!
Like this recipe? You may want to check these out too. Quick Bread Recipes, Breakfast Recipes, Dessert Recipes
Frequently Asked Questions About Banana Bread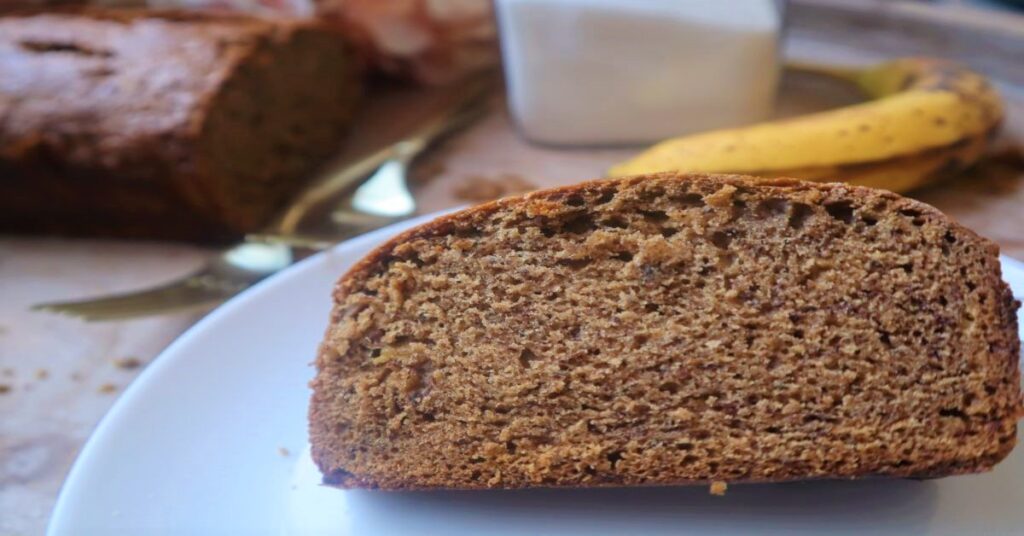 How Do You Keep Banana Bread Moist?
All I do is store mine in an air tight container or reusable zipped lock storage container in the fridge and it stays perfectly moist. I like mine warmed so I usually put it in the microwave for 15-30 seconds after refrigerated. Others recommend tightly wrapping it in plastic wrap or between paper towels while in the air tight container.
Should I Refrigerate Banana Bread?
It's not necessary, but I do. As long as it is in an air tight container, you should be fine. I do refrigerate mine and use it within a week.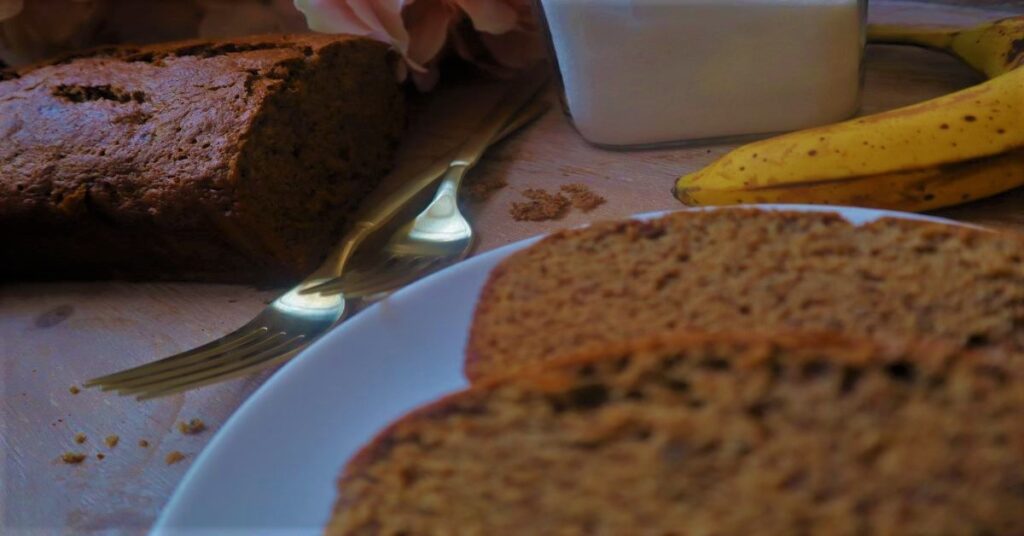 Is Banana Bread Cake or Bread?
It's a quick bread to be exact. So like cake, it doesn't need to rise. The sweetness of the banana are great for breakfast, a snack, or dessert, and the texture is more similar to a bread. It can be dressed up like a cake, but I put it the breakfast category along with muffins and pancakes.
Can You Use Frozen Bananas?
Yes! I do alllllll the time. Just let them thaw overnight. Don't discard the liquid either. Use it as part of the wet ingredients.
How Long Should I Let Banana Bread Cool?
I let it cool about 10 minutes in the pan on a wire rack. This allows the banana bread to solidify appropriately. I also recommend cooking n a 9 X 5 loaf pan lined with parchment paper so you can easily remove the bread from the pan. After about 10 minutes, lift it by the parchment paper and put directly on the wire rack until you are ready to cut and serve!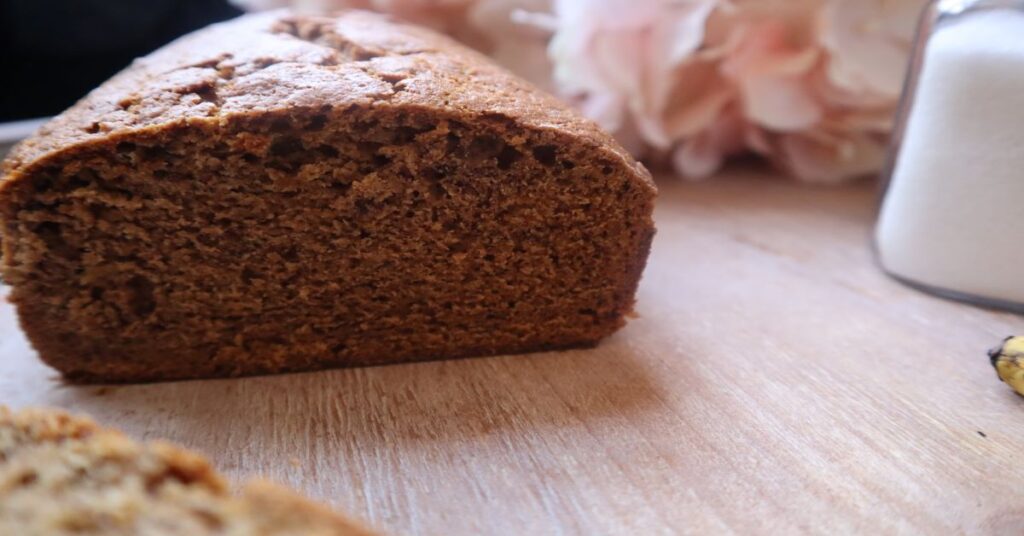 Easy Vegan Banana Bread
A delicious, moist, perfectly textured banana bread. Dairy-free, no eggs, 100% VEGAN. Kid-approved!
Per serving: 8.2g Fat, 42.8g Carbs, 2.6g Protein
Equipment
mixing bowl

9X5 metal loaf pan

whisk

sieve (optional)
Ingredients
Dry Ingredients
2

cups

all-purpose unbleached flour

1

tsp

baking soda

¼

tsp

salt (I use fine pink Himalyan)

1

tsp

cinnamon

1

tsp

allspice

1

cup

1 cup light brown sugar (packed)
Wet Ingredients
1½

cup

mashed ripe bananas (2-3 bananas)

1

tsp

vanilla extract

2

2 flax eggs

(1 flax egg = 1 tbsp group flax meal + 3 tbsp hot water)

¼

cup

pure maple syrup

½

cup

vegan butter (melted)
Mix-ins
½

cup

mix-in of choice (optional)
Instructions
Prepare flax eggs and set aside

Sift flour and light brown sugar into large mixing bowl and add remaining dry ingredients. Whisk together and set aside.

Mash ripe bananas and all other wet ingredients. Whisk together.

Add dry ingredients into wet ingredients and fully incorporate.

Fold in mix-ins of choice (chocolate chips, nuts, shredded veg, etc).

Grease 9X5 loaf pan well and line with parchment paper for ease of removing from pan after baking.

Place batter into loaf pan.

Bake at 350°F for 55 minutes- 60 minutes. Insert a toothpick after baking to ensure it comes out clean.

Rest in loaf pan for 5 minutes and then remove from pan and cool on baking rack for 30 minutes. Serve immediately.

Store on countertop in air tight container 3-5 days, or in fridge for up to one week. If freezing, use within 3 months. To thaw, place in fridge overnight or follow defrost instructions on microwave.
GOT QUESTIONS? I'm happy to help. Leave a comment and add some stars to let me know if you enjoyed this recipe. Let me know how you re-created it too. Also, please share it on social media. Tag #thenaturalfoodie. Thanks! -Salei
Please follow and like us: