Homemade Tomato Sauce With Angel Hair Pasta
Posted On January 25, 2021
Never look for a red sauce for your pasta again with this easy homemade tomato sauce recipe. Only 5 simple ingredients. All you need is butter, tomatoes, garlic, yellow onion, and salt. I promise you will never want to use any red sauce besides this one. Makes 4 servings of sauce.
Jump to Recipe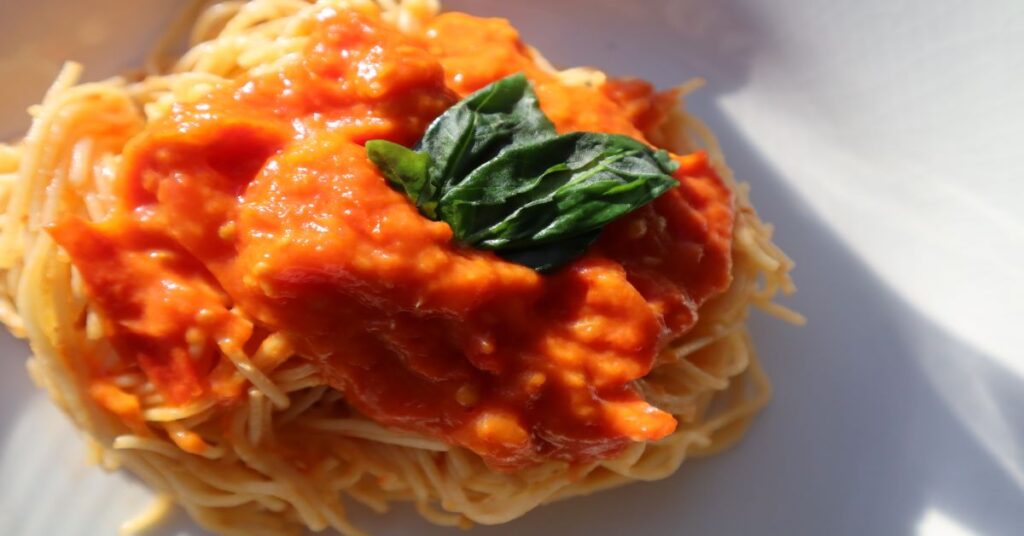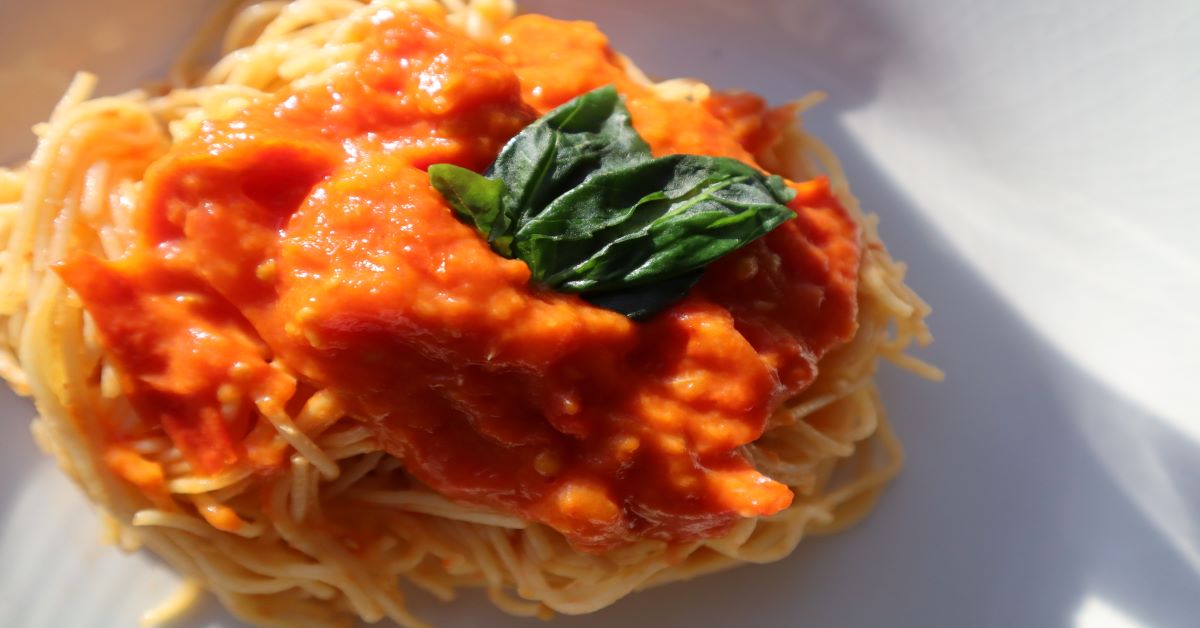 Disclaimer & Disclosure: There may be affiliate links in this post. Nothing here should be taken as medical advice. Please consult with a certified dietician or nutritionist about nutritional needs specific to you.
How To Make Restaurant Quality Tomato-Based Pasta Sauce At Home
This homemade pasta sauce base is made with tomatoes and butter. The butter cuts the acidity of the tomatoes perfectly and then when tossed in some angel hair pasta, OMG! If vegan or if you are dairy-intolerant, substitute the butter for vegan butter.
Here's what you need for the sauce:
Tomatoes
Sweet yellow onion
Garlic
Salt
That's it! Full recipe and instructions provided on the recipe card so keep scrolling.
Like this recipe? You may want to check these out too. Vegan Recipes, Vegetarian Recipes, Low Carb Recipes, Main Course.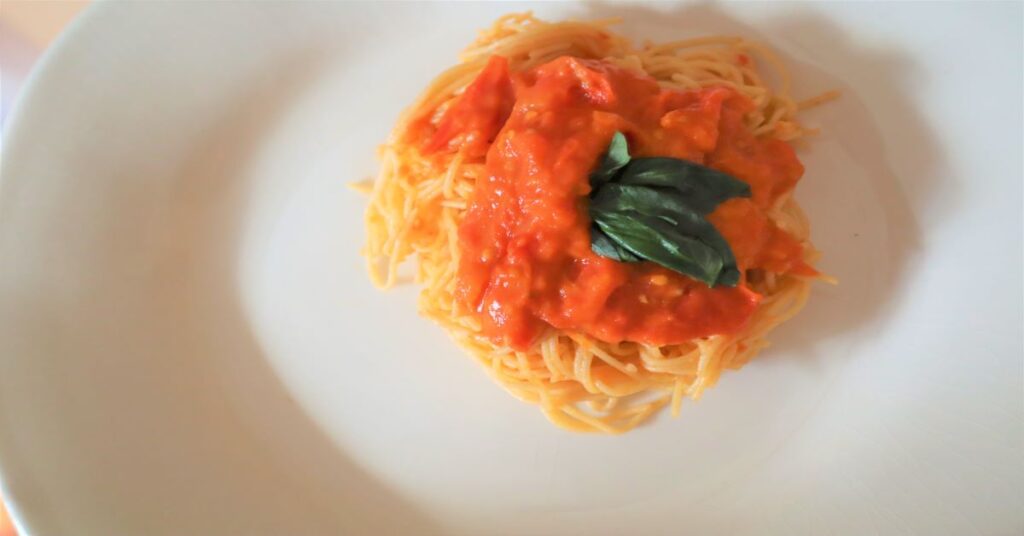 Why This Homemade Tomato Sauce Recipe Will Never Go Out Of Style
This sauce recipe is great for a romantic dinner for two with some chocolate covered strawberries and a glass of wine, or any day of the week. Super kid-friendly too because umm pasta! It's impressive, easy to make, and absolutely delicious.
It's absolutely the best red sauce ever for starters
Easy, inexpensive ingredients found in any grocery store
Easily turned into a vegan recipe by substituting the butter for vegan butter. Even those with dairy issues can enjoy this recipe with this substitution.
It's a huge crowd pleaser recipe.
The Story Behind How This Homemade Tomato Pasta Sauce Recipe Came Into My Life
A lot of my recipes happen because I want to use up ingredients before a grocery store run. For this one I had butter and a lot of tomatoes. So I thought why not, I'm sure a good sauce can come together out of this. Since then I always make my red sauce for pasts like this. These are seriously the moments I am grateful I started writing down notes while doing impromptu cooking.
I eat majority low carb, so if you want some low carb REAL noodles, I suggest checking out The Great Low Carb Bread Company and Thin Slim Food pastas. I use these brands for my pasta. Use The Great Low Carb Bread Company spaghetti for this recipe for low carb so it's as close to angel hair as possible. Angel hair with added protein is a great choice and staple in my house also.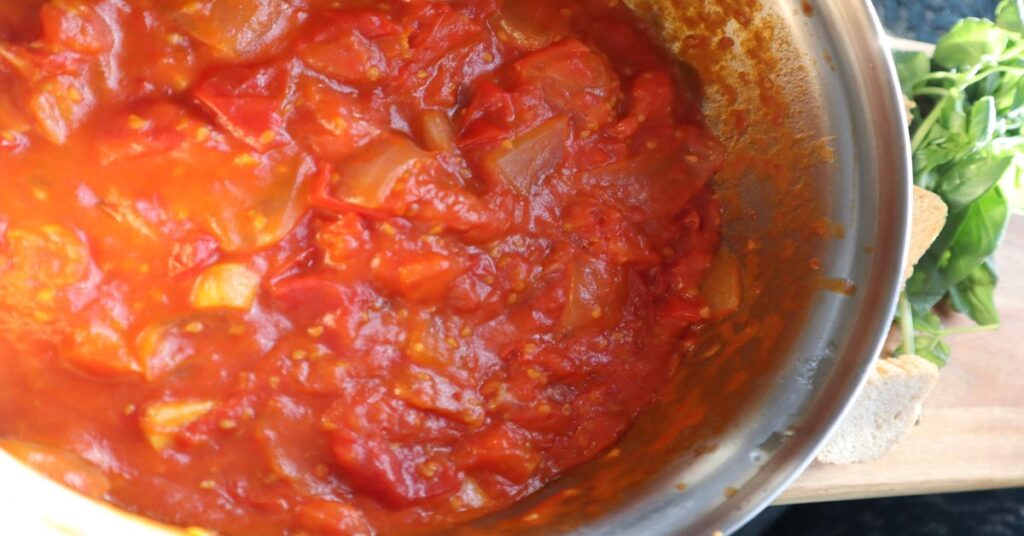 Notes +Tips To Make This Tomato Sauce Recipe Perfect Every Time
Use a sweet yellow onion.
Don't cover the pot with a lid while everything cooks
When you think to yourself I should add water to this, DON'T, and just take it off the stove. That's an additional cue to remove from heat immediately.
Discard onions and garlic after cooking or remove the large pieces and pulse them in a food processor and add back to the sauce. I do the latter and pulse them and add back into the sauce. It's worth the effort and there are no unwanted chunky pieces of onion or garlic.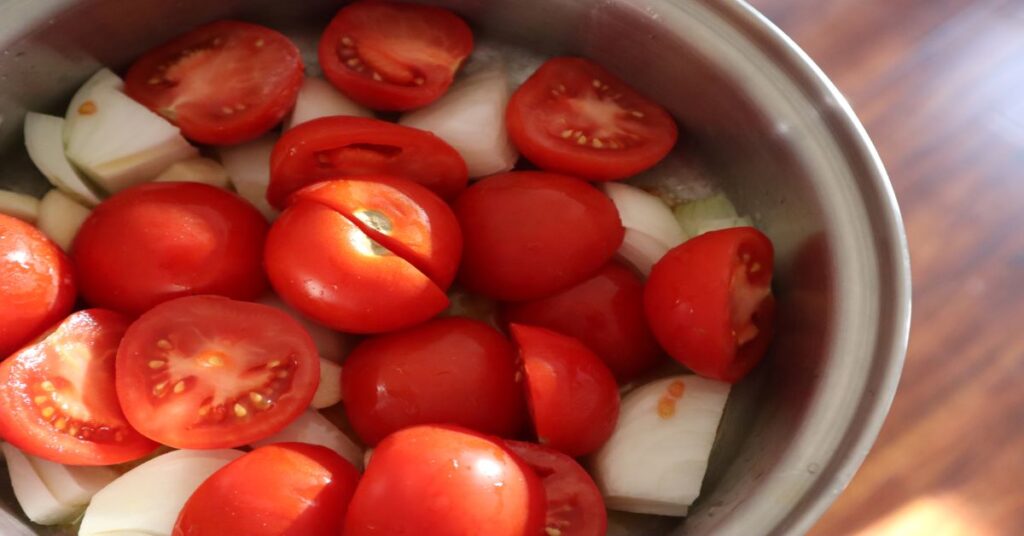 Why Use Fresh Tomatoes Instead of Canned Tomatoes For Sauce?
This homemade pasta sauce recipe calls for fresh tomatoes, but canned whole tomatoes should work fine also. It's a personal preference of mine to cook with fresh ingredients and usually always have fresh tomatoes handy. I also like that I am monitoring the salt intake better and using less processed ingredients. The more natural, the better.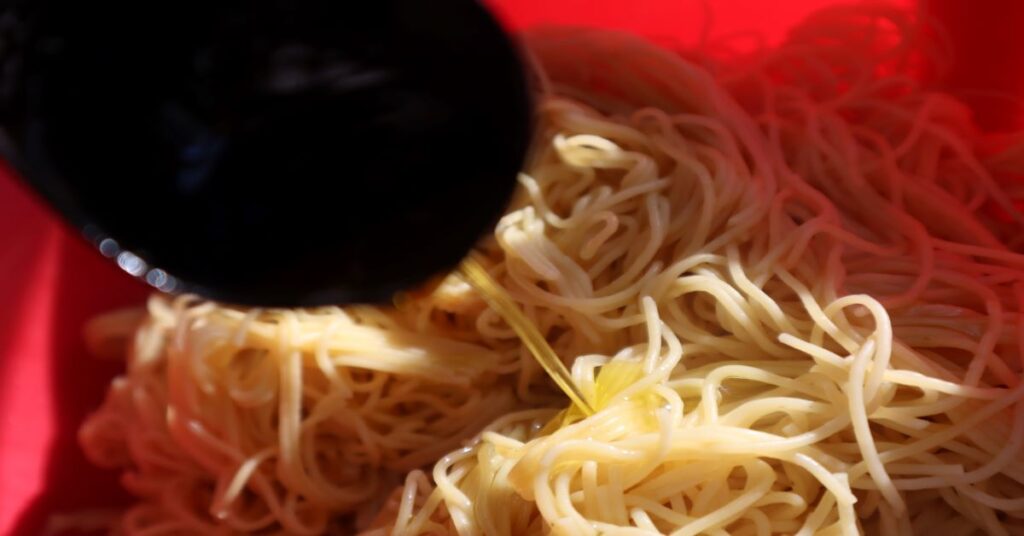 What About The Pasta For The Sauce?
I prefer angel hair pasta for this recipe. Cook pasta according to texture you like best and toss with oil and fresh basil. Then toss in half the tomato sauce and use the rest of the sauce to top each serving of pasta.
For this recipe, I use 7 ounces of pasta if it's a 14 ounce box of pasta as the recipe makes roughly 11 ounces of sauce.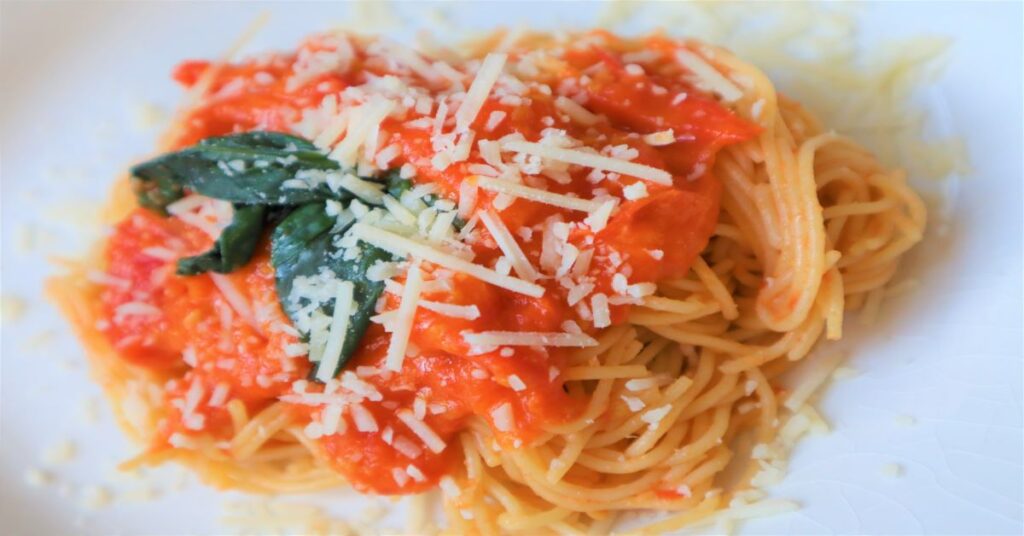 Let's Talk Toppings For This Buttery Tomato Sauced Pasta
Keep it simple. It's so good, it doesn't need anything else. But if you insist, grate some fresh Parmesan on top of it. Serve it with a fresh Cesar salad with some crunchy croutons and a glass of red wine. I'm a Malbec girl.
This sauce is great on it's on also. Add it to a cheese board with some pesto, fresh mozzarella (or vegan cheese!) with cracked black pepper and salt drizzled with olive oil and balsamic vinegar, fresh basil, and dip sauce into croutons or crackers of choice.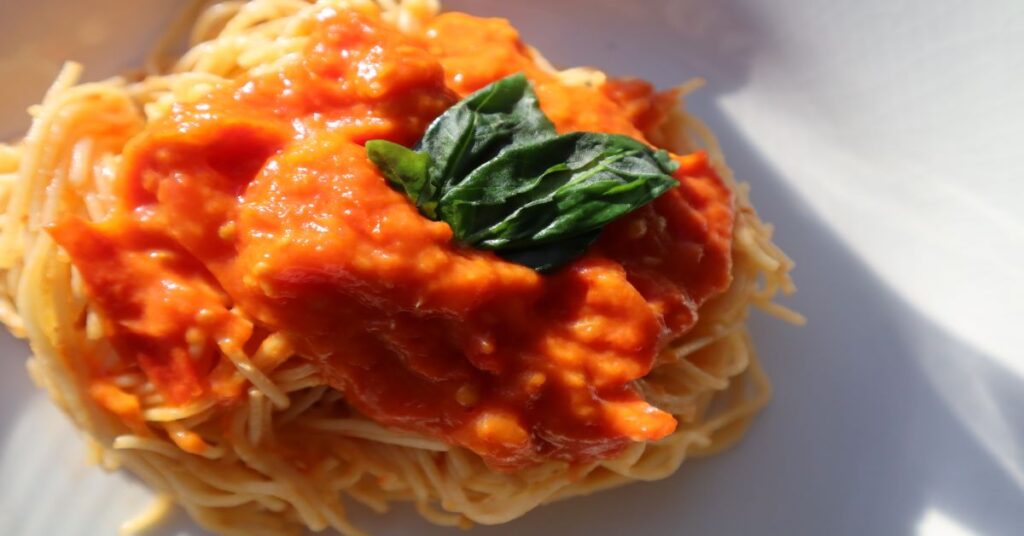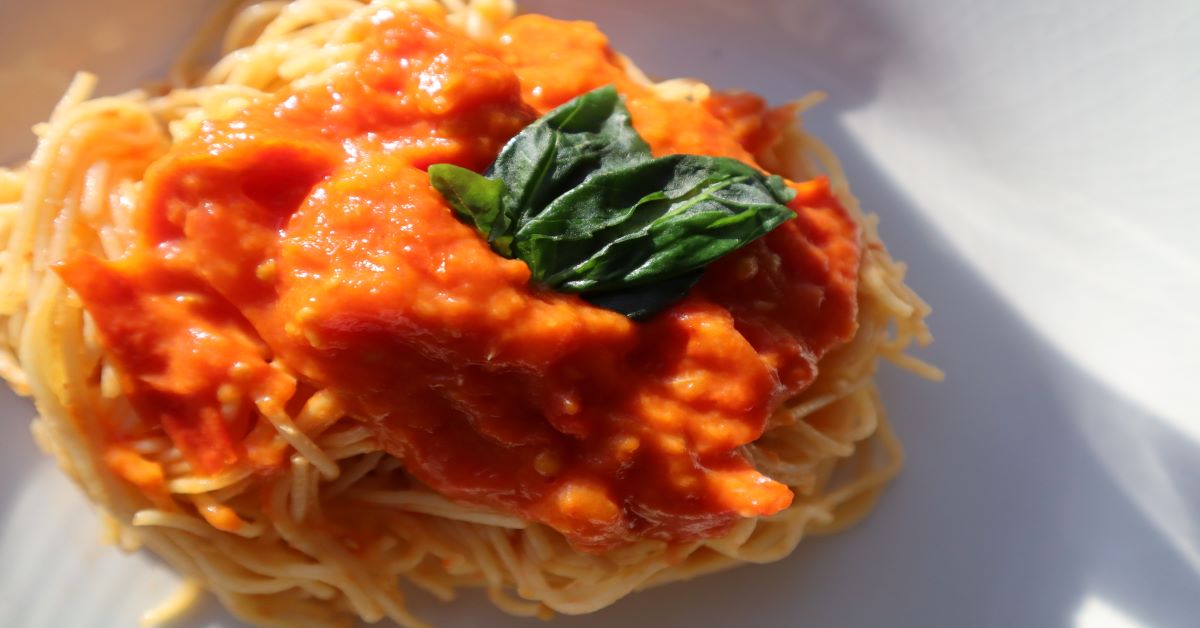 Homemade Tomato Sauce With Angel Hair Pasta
Never look for a red sauce for your pasta again with this easy homemade tomato sauce recipe. Only 5 simple ingredients. All you need is butter, tomatoes, garlic, yellow onion, and salt. I promise you will never want to use any red sauce besides this one. Makes 4 servings of sauce, 11 ounces. Tomato Sauce nutritional information included per serving: 7.2g Carbs, 11g Fat, 1.3g Protein
Equipment
mixing bowl

2 pots

colander

cutting board

knife

food processor or blender (optional)
Ingredients
For Tomato Sauce
1

lb

Campari tomatoes (or tomatoes of choice)

fresh preferred, but canned will work also

½

medium

sweet onion (quartered)

2

cloves

garlic (halved)

½

tsp

salt (pink Himalayan or salt of choice)

4

tbsp

unsalted butter (I use Kerigold brand)

if vegan, use vegan butter
Pasta
7

ounces

Angel Hair Pasta

1

tbsp

Olive Oil

extra virgin

1

tsp

salt (pink Himalayan or salt of choice)

1

handful

chopped fresh basil

1

cup

shredded or grated Parmesan cheese, divided
Instructions
Combine all ingredients for sauce in pan

Cook uncovered for 45 minutes

Tip- Once the tomatoes starts thickening and you notice the liquid is beginning to evaporate, remove from heat. This is usually at the 45 minutes mark, but may vary depending on your stove or heat setting.

Discard onions and garlic OR as I prefer, remove the large chunks and place in your blender or food processor.

Blend large chunks of onion and garlic until pureed and then add back to sauce.

Toss some sauce into pasta and save half of sauce for topping pasta. Also may serve this on its own with a cheese board and some wine.

Sauce freezes really well. To unthaw, place in fridge overnight or remove from container and put into pot to heat.

Makes 11 ounces of sauce
Pasta
Cook pasta noodles to desired texture and drain with colander.

Toss pasta with 1 TBSP extra virgin olive oil, 1 TSP salt, handful of chopped fresh basil, and 1/2 cup parmesan cheese. If vegan use vegan parmesan cheese.

Top each serving with the remining sauce and cheese. Garnish with fresh basil.
GOT QUESTIONS? I'm happy to help. Leave a comment and add some stars to let me know if you enjoyed this recipe. Let me know how you re-created it too. Also, please share it on social media. Tag #thenaturalfoodie. Thanks! -Salei
Please follow and like us: