Quick and Simple Egg Curry Recipe (Vegetarian)
Posted On October 22, 2020
This quick and simple egg curry recipe has bold curry flavors and loads of protein. Egg and "aloo"(potato) is a traditional Trinidad & Tobago egg curry recipe. It is a delicious, simple, vegetarian curry with eggs, potatoes, and garbanzo beans. When I "need" a low carb day and want this meal, I substitute the potatoes for a roasted curried cauliflower.
Jump to Recipe
Why I Can't Get Enough of This This Egg Curry Recipe
I love crowd pleaser recipes. This recipe is versatile and vegetarian, easily transforms into a low carb, high protein recipe by replacing the potatoes with my roasted curried cauliflower recipe.
Satisfying comfort food that is easy to prepare
Amazing flavor
Easy, inexpensive ingredients
Multi-tasking is so easy with this recipe. Prepare your potatoes, onions, and garlic while the eggs are boiling to save time.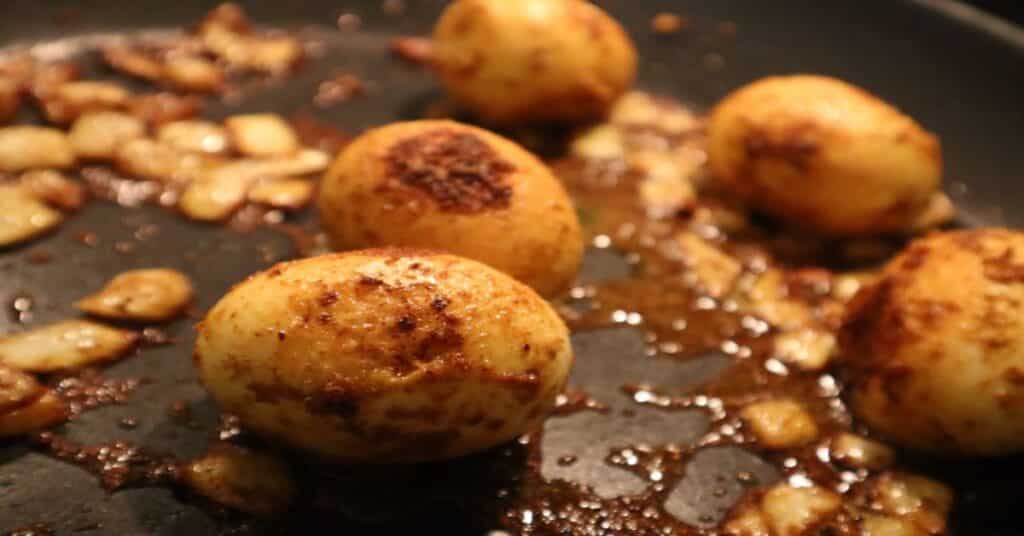 Egg Curry Notes + FAQS
How To Make Your Egg Curry Recipe Perfect Every Time
How do I make egg curry low carb?
Although this vegetarian recipe is traditionally made with potatoes and garbanzo beans and served with white rice, try substituting one or both of those carb heavy ingredients with my roasted curried cauliflower recipe I linked to earlier instead and leave out the rice. An easy change that makes this recipe low carb and high protein. Roasted cauliflower is generally a great way for me to get my kids eating vegetables without hiding them.
Pair this egg curry recipe with my Indian style fresh green bean recipe for a flavorful easy, heathy vegetarian meal.
Why this vegetarian curry recipe?
This is comfort food all the way. I absolutely love the flavors. It has loads of protein and is filling. Try it with my curry pumpkin recipe and see how different these curry dishes taste. They go really well together.
Curry isn't a one seasoning taste the same flavor profile. That's because there is no one curry powder. Curry powder is a blend of Indian herbs and spices. Every blend available is a combination of herbs and spices such as turmeric, cumin, cayenne powder, chili pepper flakes, coriander, allspice, fenugreek seeds, black pepper, ginger, and the list goes on! And if your wondering, no, garam masala is not curry powder, but it is delicious.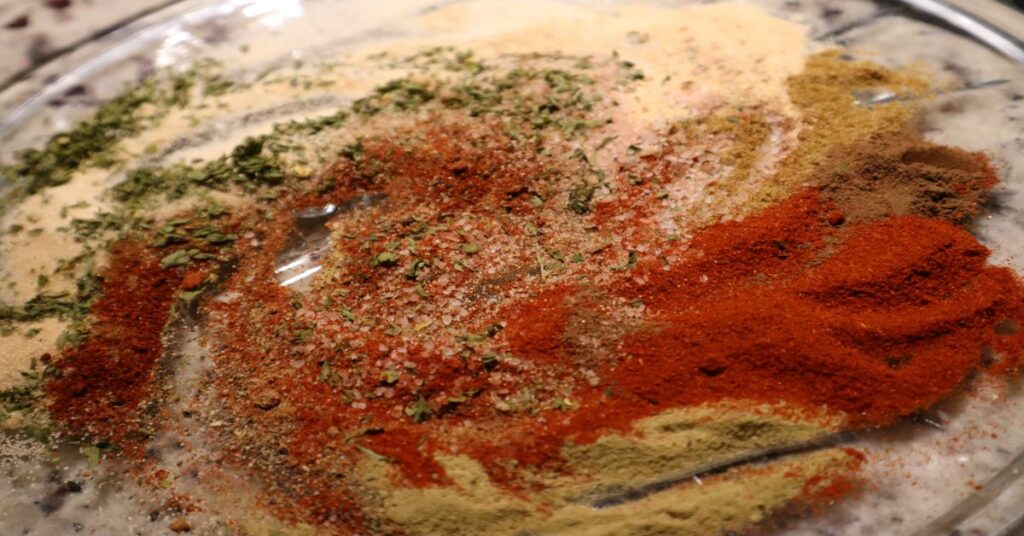 Caribbean Curry powder
In the Caribbean, the yellow curry powders are most commonly used in curry recipes. These are also known Madras curry powder. I regularly use Chief's brand curry powder when I don't make my own curry powder seasoning.
Is Curry Healthy For You?
The way I prepare curry, it is healthy to eat every day. Most of my curry recipes, including this recipe, call for my green seasoning which is an all-purpose low carb easy to prepare fresh herb seasoning mixture and dried herbs. I don't use a lot of salt either. Check out this list of health benefits of curry powder.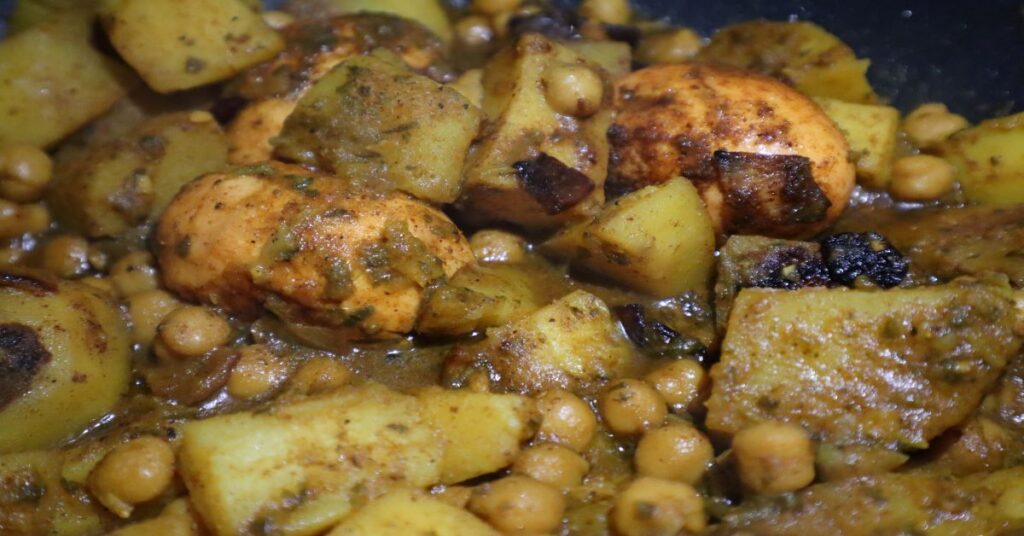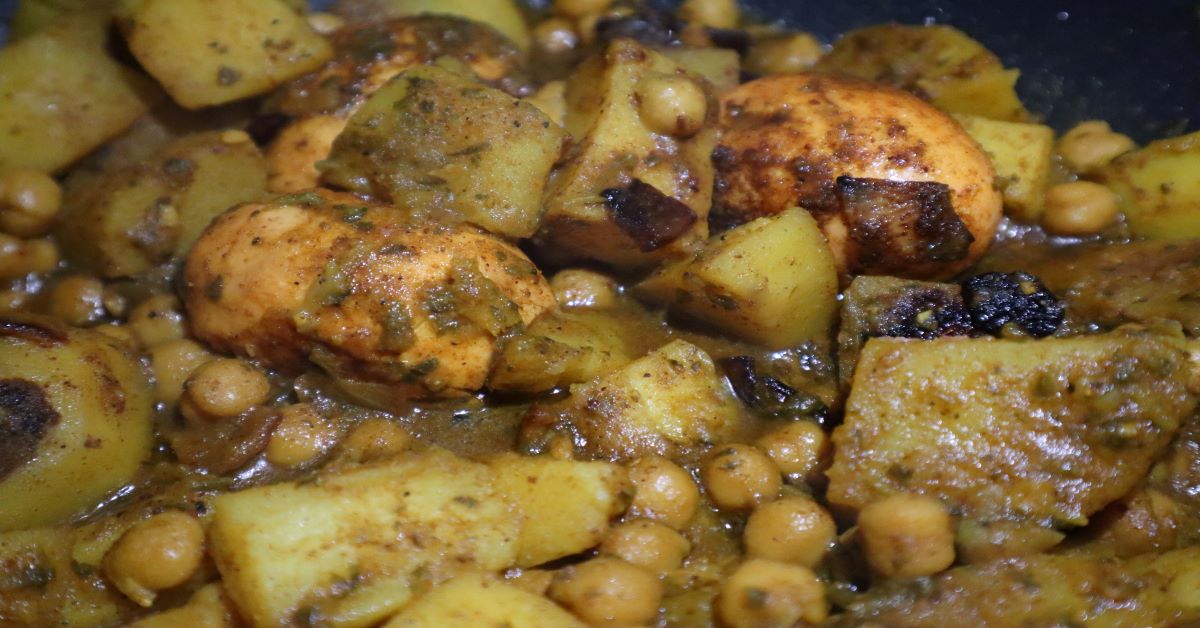 Have fun making this egg curry recipe!
Quick and Simple Egg Curry Recipe
This quick and simple curry egg recipe has bold curry flavors and loads of protein. Egg and "aloo"(potato) is a traditional Trinidad & Tobago egg curry recipe made with eggs, potatoes, and garbanzo beans. This vegetarian Caribbean recipe features bold curry flavors. Sub crispy cauliflower to make it low carb.
27.9g carbs, 13.5g fat, 10.4g protein
Equipment
vegetable peeler

2 pots

cutting board

knife
Ingredients
3

tbsp

olive oil

3

medium

russet potatoes

5

medium

eggs

2

ounces

onion

finely chopped

2

cloves

garlic

minced

3

tbsp

Chief's curry powder

1

tsp

olive oil

add in with potato

1 ½

tsp

turmeric

1

tsp

cumin

½

tbsp

garlic powder

1

cup

water

2

tbsp

green seasoning (fresh herb seasoning mix)

optional

1

can

garbanzo beans

½

tablespoon

Pink Himalayan salt

optional

salt and pepper to taste (at end)
Instructions
Frying The Egg
Heat one tablespoon of oil with the stovetop set to 7

Add 2 ounces of finely chopped onion and 2 cloves of minced garlic when oil is hot.

Add 2 more tablespoons of olive oil and stir in one tablespoon of curry powder.

Immediately add peeled boiled eggs

Allow egg to fry evenly, making sure each side of the egg gets golden brown. This could take anywhere from five to ten minutes. Keep watching to avoid burning. Remove eggs when each side has a golden slightly charred color.
Curry Potatoes
Add 1/2 tablespoon of pink Himalayan salt.

Mix all ingredients together in the pot with the oil and immediately add the potatoes along with 1/4 cup of water.

Cover your pan and reduce heat to medium.

Let it simmer for 10 minutes.

Add 1 can of garbanzo beans.

Cover your pan and let it cook over 15 more minutes.

During the 15 minutes, I usually add 1 additional tablespoon of curry power, 1/2 teaspoon of turmeric for more color, and 1/2 cup of water.

When the timer goes off reset your timer for an additional five minutes.

Salt and pepper to taste.
GOT QUESTIONS? I'm happy to help. Leave a comment and add some stars to let me know if you enjoyed this recipe. Let me know how you re-created it too. Also, please share it on social media. Tag #thenaturalfoodie. Thanks! -Salei
Please follow and like us: