Homemade Air Fryer French Fries
Posted On January 20, 2021
Try these homemade air fryer French fries- delicious, and oh so crispy! Just like your favorite restaurant would serve them and healthier so no guilt creeping in when you feed them to your family. Only 75 calories, 13g Carbs and 2.3 g Fat per serving. 1/2 potato is a serving.
Jump to Recipe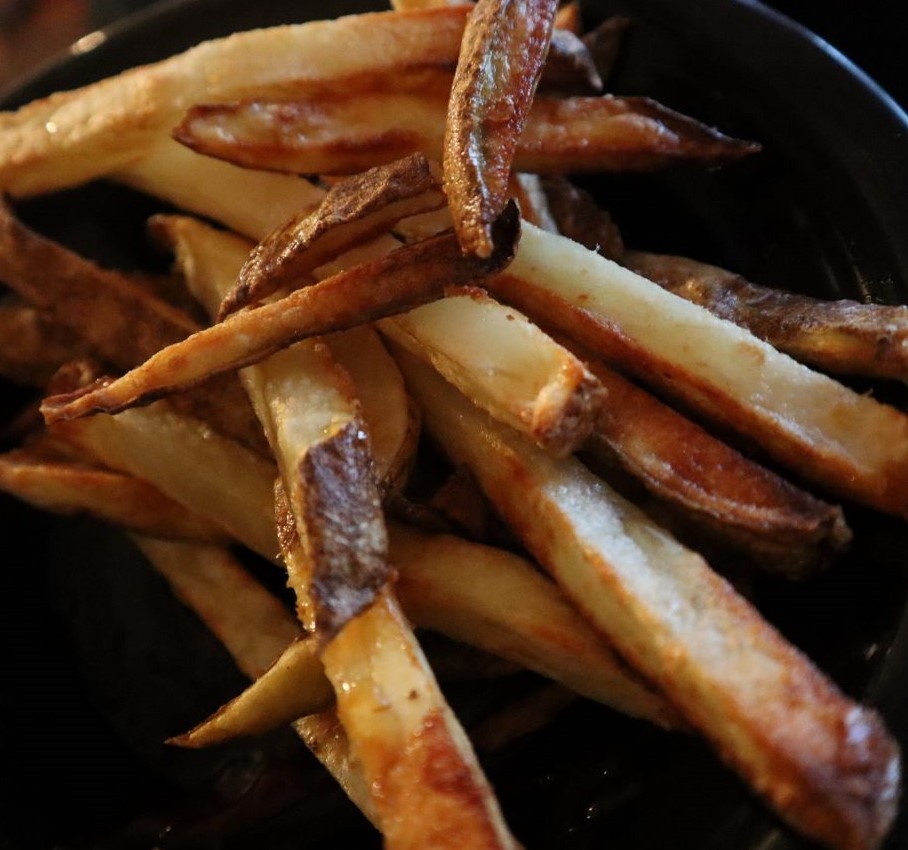 Let's face facts here, French fries are life!!! I highly recommend serving these air fryer French fries while steaming hot. It's my favorite way. I use olive oil and very minimal amount but you won't notice at all. Dip them in a spicy ketchup, ranch, or my favorite- honey mustard.
My family wants fries daily if they had it their way and I want healthier ways to love our favorite foods so along came an Amazon package to my house for a professional potato cutter. It's totally worth it. I use it pretty much all root vegetables and some more. Example, zucchini fries! Best of all, it makes preparing homemade French fries and sweet potatoes fries so easy and gives it that authentic restaurant look.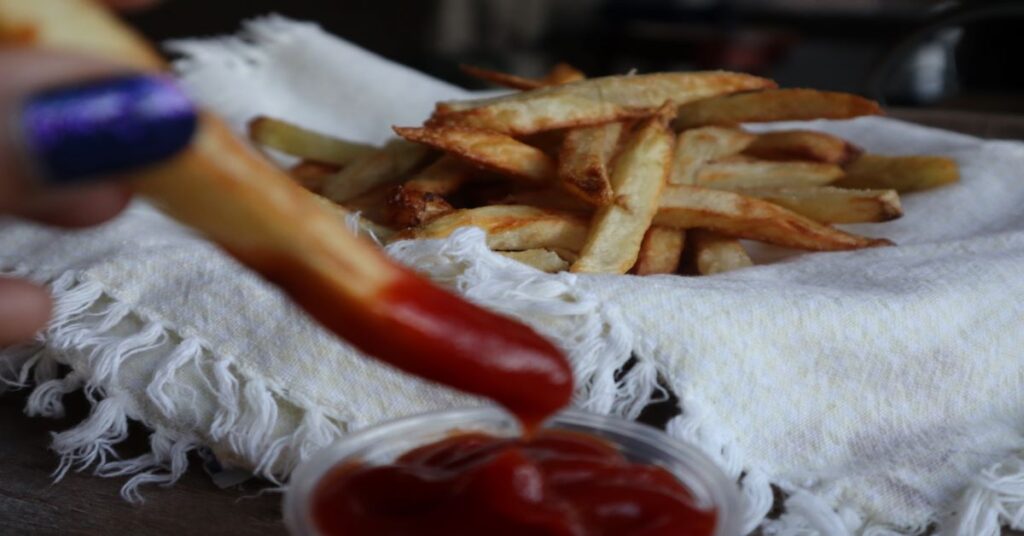 Disclaimer & Disclosure: There may be affiliate links in this post. Nothing here should be taken as medical advice. Please consult with a certified dietician or nutritionist about nutritional needs specific to you.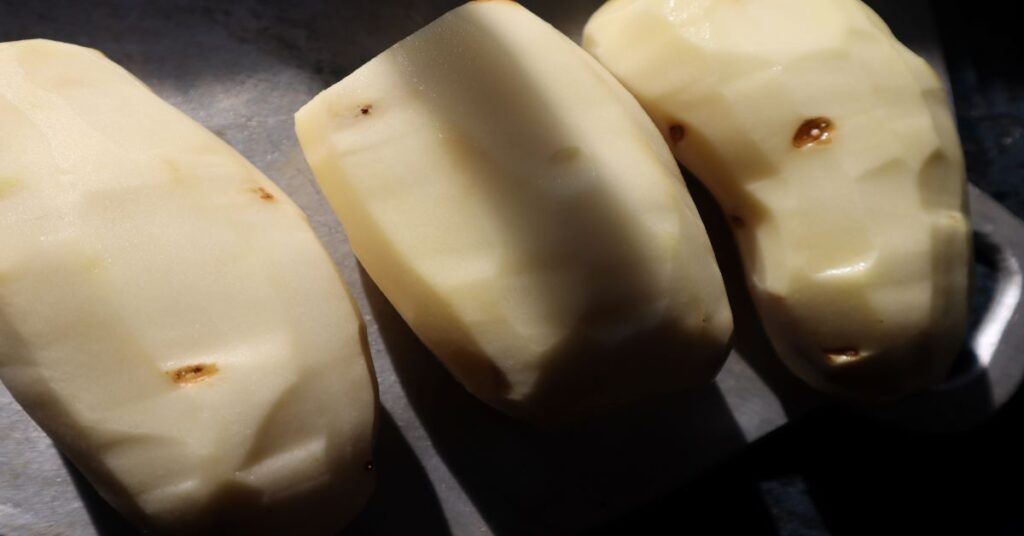 How To Make French Fries From Scratch
Even if you don't have a professional potato cutter, this recipe is really easy to prepare. The crisp and crunch is what ultimately makes the perfect batch of French fries and this recipe gives you that.
This French fries recipe is made in an air fryer, but can easily be made in the oven also. Preheat air dryer to 390 degrees Fahrenheit and cook for 20 minutes. Full recipe in recipe card near bottom of page but here are the basics.
Use your potato cutter or otherwise slice potatoes into desired size. Peeling potatoes are optional.
Toss in olive oil and salt.
Shake basket halfway between cooking.
Shake some malt vinegar on them.
Serve while hot.
Like this recipe? Try these low-oil Side Dishes and other recipes! Vegan Recipes, Vegetarian Recipes, Low Carb Recipes, Caribbean Recipes.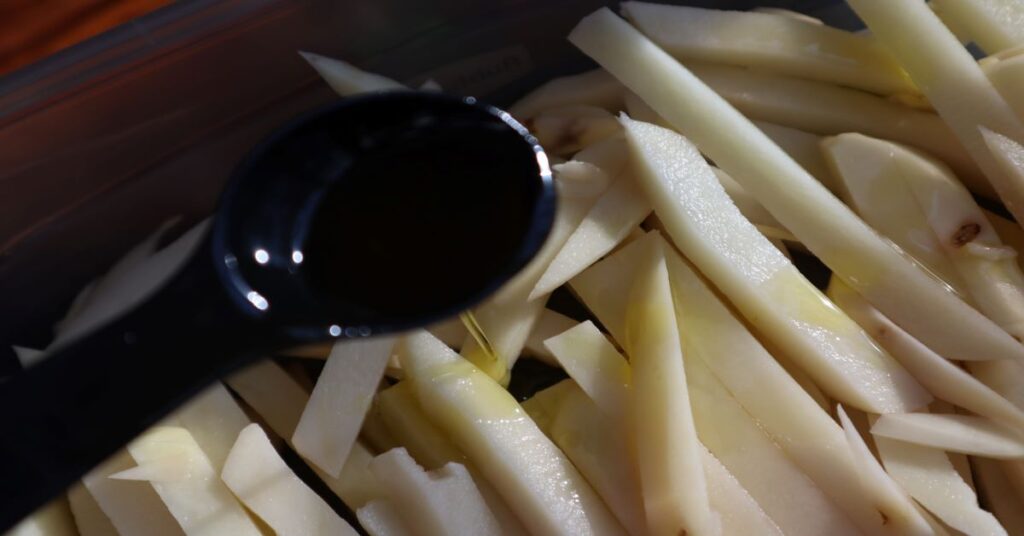 Notes +Tips To Make This Homemade Air Fryer French Fries Recipe Even Easier
The first key tip on how to make French fries from scratch using an air fryer is don't over crowd your basket to get the best crisp.
I use a Ninja Foodi 8-Quart 9-In-1 as my go-to air fryer, and I add water to the bottom of the pressure cooking pot then add the air fryer basket and put the potatoes in to cook. I add more water between batches.
Using a good cooking spray bottle to distribute oil is key. Try these evo spray bottles. Pre-made cooking sprays will ruin the finish on your air fryer.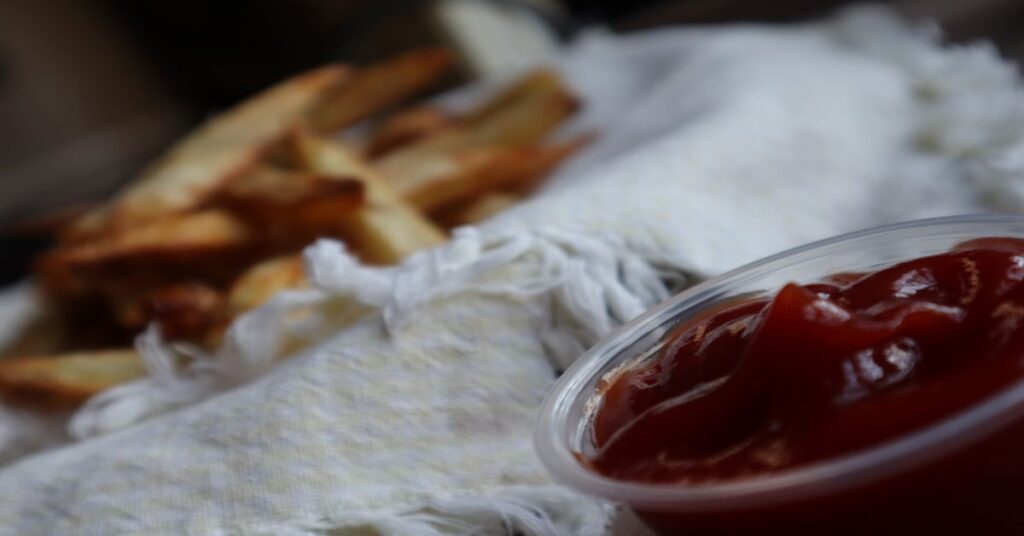 Recipe Variations
These homemade French fries are delicious without doing much seasoning. I like them with just salt and malt vinegar.
Try these combinations too:
Cajun fries: salt, black pepper pepper, and Old Bay Seasoning. Or my favorite, just use some Slap Yo Mama seasoning.
Garlic Fries: salt, black pepper, garlic powder, and onion powder. I also sauté some garlic in olive oil and toss them in this mixture after cooking is complete.
Salt and pepper only
Salt only (no malt vinegar)
Get inventive and try something new!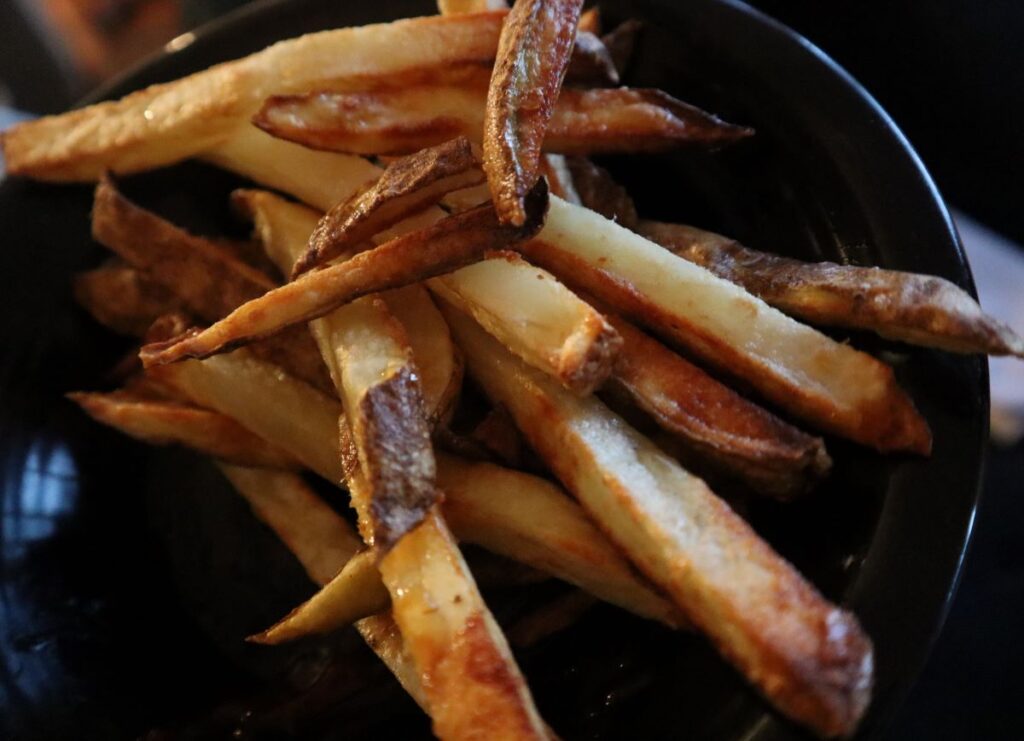 Cooking Variation
This homemade French fries recipe uses 3 medium to large russet potatoes. If making a smaller batch using only one potato, I recommend slicing, and tossing in 1/2TBSP Olive Oil followed by 1/2TSP Salt of choice (I use pink Himalayan salt). I put the entire sliced potato in the air fryer and follow same cooking tips and instructions as the original recipe.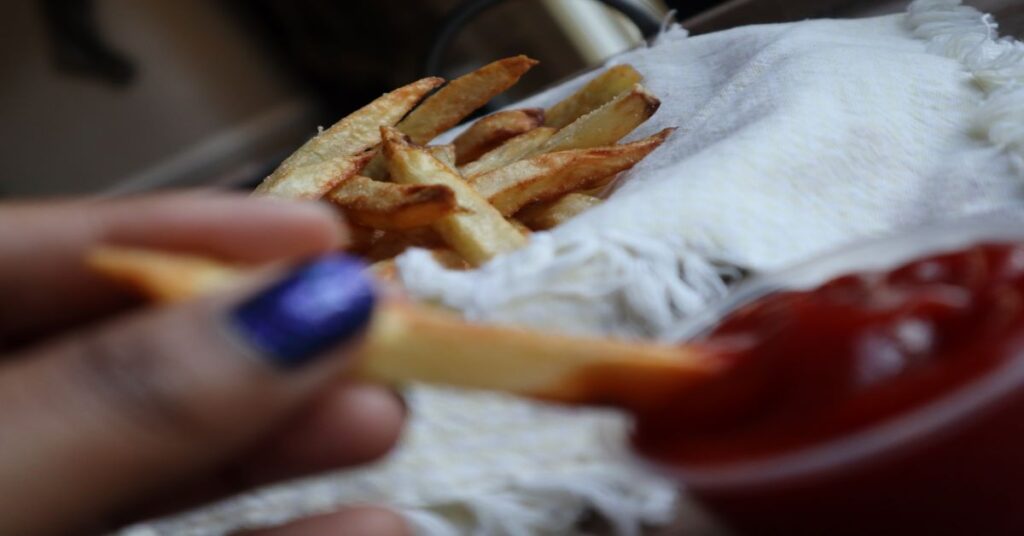 Are Air Fried Fries Healthy?
Yes, they are healthier than deep fried versions which is how a restaurant or fast food chain will prepare them. This version is lower in fat and calories. Treat yourself (or your family) and feel good about what goes in your body. A win win situation. Added bonus, your kids will think they've won.
Portion control may or may not be exercised because they are that good. BUT for this recipe each serving is only 75 calories, 13g Carbs and 2.3 g Fat, so there is wiggle room! One serving is equal to half of one potato.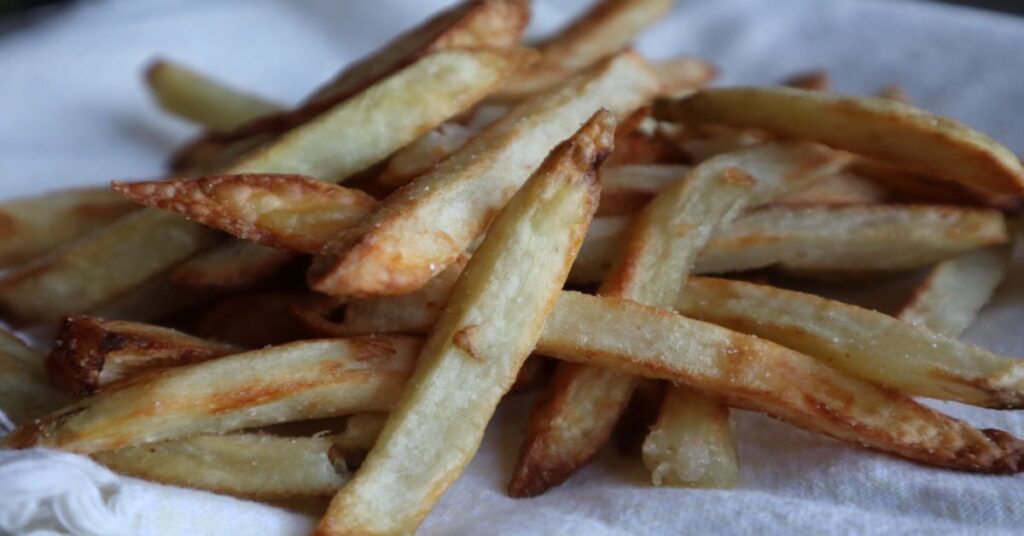 Homemade Air Fryer French Fries
Try these homemade air fryer French fries- delicious, and oh so crispy! Just like your favorite restaurant would serve them and healthier so no guilt creeping in when you feed them to your family. 13g Carbs 2.3g Fat 1.5g Protein
Equipment
Air Fryer

Professional Potato Cutter 1/2 inch blade (optional) or knife

Vegetable peeler (optional)

large mixing bowl
Ingredients
3

large

russet potatoes (peeling is optional)

1

TBSP

Olive Oil

1

TBSP

Pink Himalayan Salt (or salt of choice), divided

½

CUP

water

for air fryer if your device has the option to add water below air fryer basket

Malt Vinegar (to taste)
Instructions
Pre-heat Air Fryer to 390°F

(optional) Peel potatoes. I like keeping the skin on them.

Slice potatoes lengthwise into desired amount or use a potatoes cutter device with a 1/2 inch blade.

Place sliced potatoes in large mixing bowl and toss in 1 TBSP Olive Oil

Add ½ TBSP Salt of choice and distribute evenly. Remaining salt for tossing after cooking.

If an option for your air fryer device, put ½ cup water in bottom of pan and then insert air fryer basket.

Place sliced potatoes in air fryer basket and cook for 20 minutes, shaking basket halfway through cooking.

Remove from air fryer basket and toss in remaining ½TBSP salt.

Spray lightly with malt vinegar.

This recipe makes 6 servings. ½ potato per serving.
GOT QUESTIONS? I'm happy to help. Leave a comment and add some stars to let me know if you enjoyed this recipe. Let me know how you re-created it too. Also, please share it on social media. Tag #thenaturalfoodie. Thanks! -Salei
Please follow and like us: